Celebrating success in Montreal

Wednesday, January 24th, 2018
The 2018 Canadian Rally Championship is set to begin in a little over a week. Recently, representatives of the sport from across the country gathered in Montreal to discuss the future of the sport, and to recognize the successes of 2017.
Perhaps the key focus of the discussion was around how to continue to grow the sport. A topic that is constantly evolving, some talk took place around how to improve the level of competition in the series. A number of technical solutions are under consideration, which are detailed in an official bulletin. At the core, the goal is to improve competition while keeping costs low.
Garnering more entries at events of all levels, from regional rally cross series up to multi-day national rallies was also a focus of the talks. Each region is working with current and recent competitors in differing ways to understand what will draw more people into entering events.
To find out a little more about the discussions, watch a reply of our live panel discussion from Montreal.
With the business out of the way, it was time for the awards gala. Three competitors highlighted the evening.
Leo Urlichich was recognized for his excellent performance in Production 4WD, and third place in the championship overall. It was also an important success for the Can Jam Motorsports team, who had taken some time away from competition after losing two members of the team.
Though second-place driver Brandon Semenuk was not on hand for the awards, his co-driver John Hall claimed the trophies for the team. Fans across the country hope to see Semenuk out at each round of the 2018 season, though no decision has yet been made.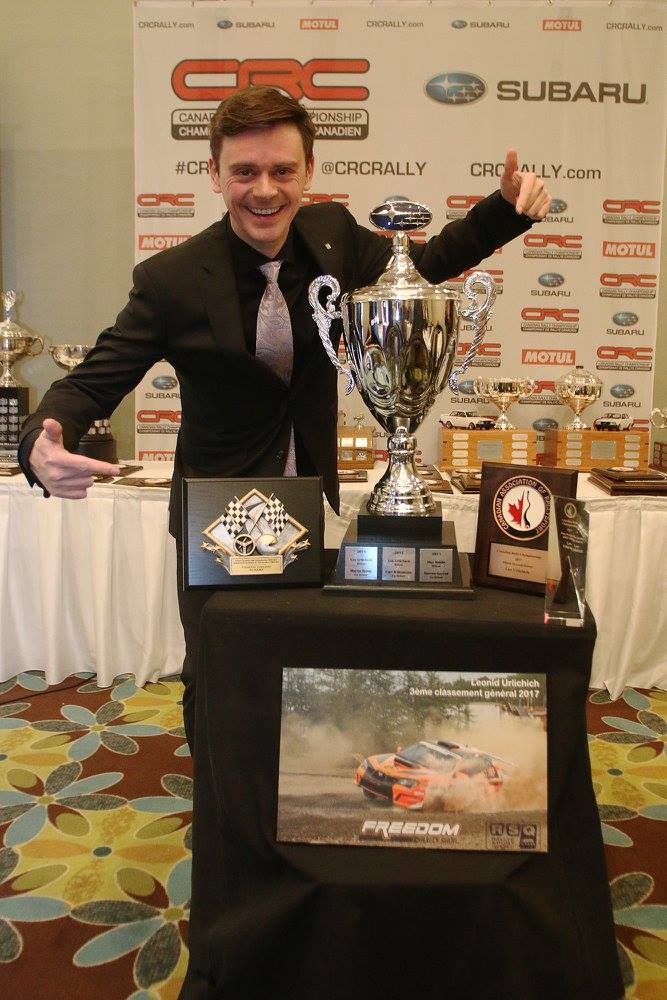 Claiming first overall, for the tenth time in his remarkable career was Antoine L'Estage. He was joined by co-driver and five-time Canadian champion Alan Ockwell. Following a 10th title tribute video, L'Estage wanted to remind everyone that despite Subaru Rally Team Canada withdrawing from the series, L'Estage was not retiring.
"This is not the end for me," said L'Estage. "I don't know exactly what our 2018 season will look like, but the team is working hard to put together a plan to get to as many events in the CRC season as possible."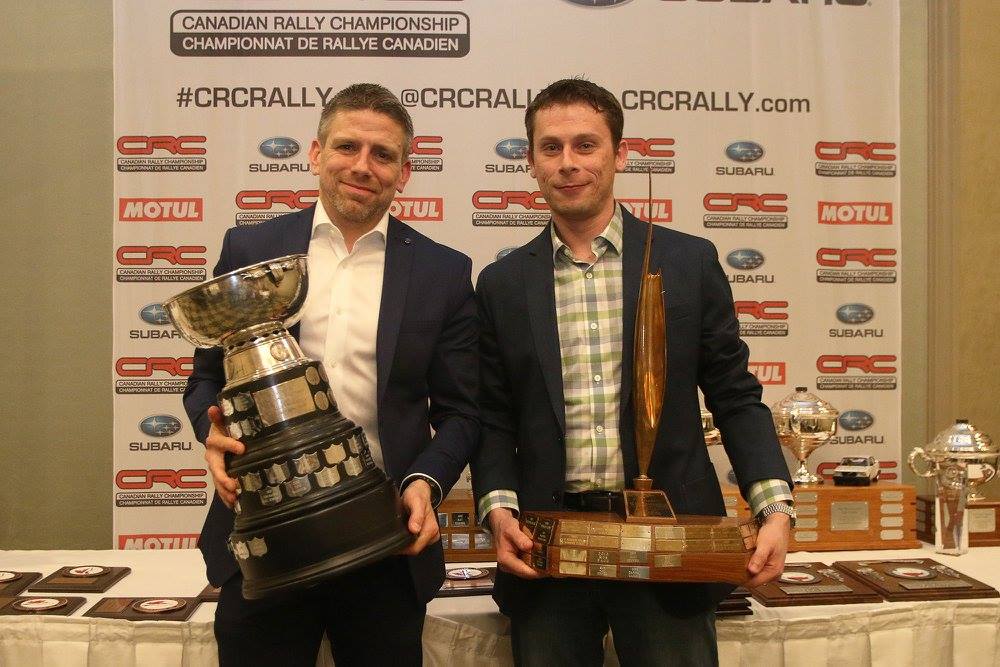 The 2WD trophies went to Leanne Junnila, who accepted on behalf of her driver Dave Wallingford. The team had expected to both be on hand for the event, but Wallingford's flight to Montreal was cancelled, leaving Leanne to hoist a lot of hardware.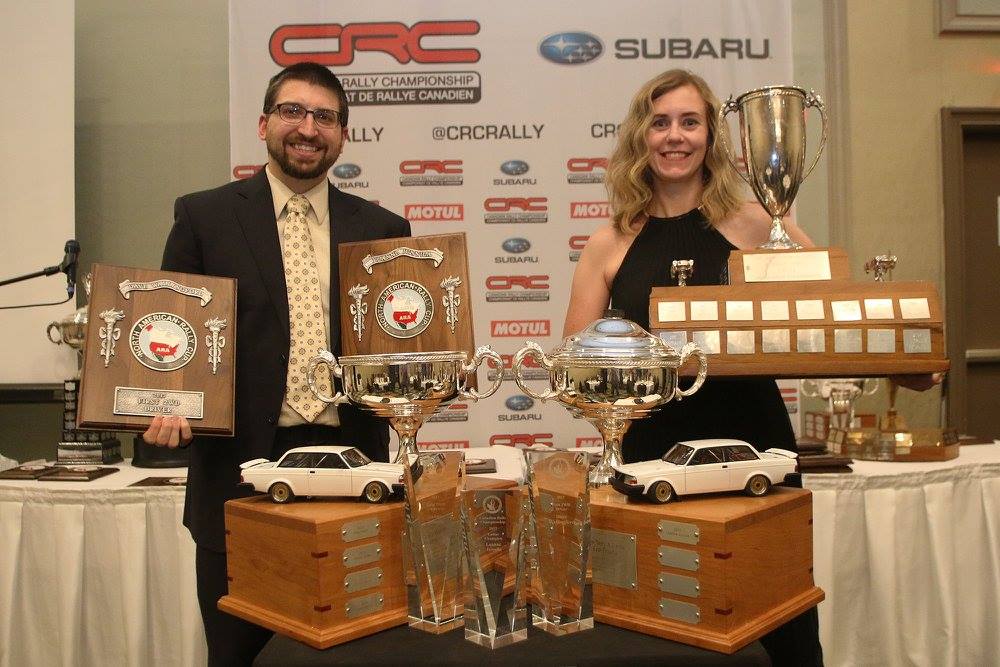 Junnila also claimed the women's trophy, and made the following acceptance speech.
"I won this trophy last year and initially I wasn't sure what to think about a trophy made specifically for women. But after thinking about it, I realized a few things:
Motorsport as a sport and a product is better when it appeals to a wider demographic. That means celebrating the successes of women, who are currently still a minority, makes the sport as a whole better. 
And this trophy is about getting overall results on either side of the car, in any class, and celebrating it, so when you think about it, it's actually a recognition of inclusivity rather than segregation.
So while I don't feel like women need to be singled out in rally based on their gender, it makes me extremely proud to accept this trophy as a way to inspire more women to get involved, and to illuminate a women to get involved, and illuminate a path forward, the same way women before me who have won this trophy have done."