L'Estage and Ockwell dominate first day of Rocky Mountain Rally

Saturday, May 27th, 2017
Words by Dean Campbell, Photos by Andrew Snucins
Antoine L'Estage and Alan Ockwell took a decisive lead on the first day of the 2017 Rocky Mountain Rally. Competing for Subaru Rally Team Canada, the pair benefitted from being first on the road, facing no dust and only marginal road sweeping on the hard packed gravel roads.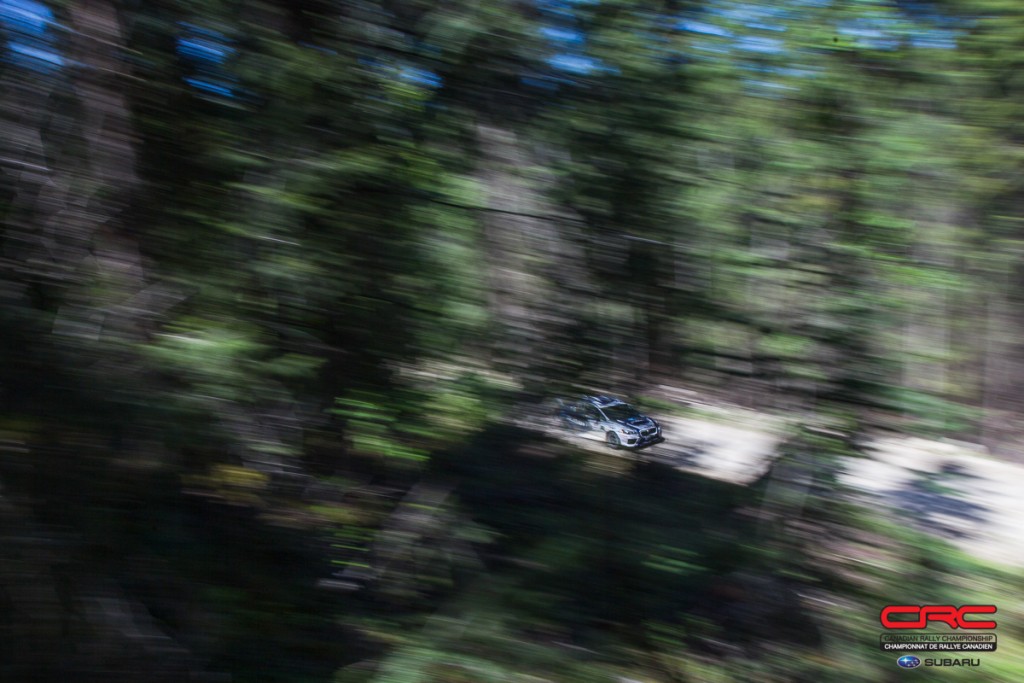 The first day of stages consisted of a series of roads known as the Dogleg complex. Some sections of roads were rutted and rough, but L'Estage and Ockwell were able to persevere.
"If you look at the times, it's been a good result," said L'Estage. "We've been battling through a bunch of little problems all day. The stage times are good, and the car is handling perfect, so I am happy."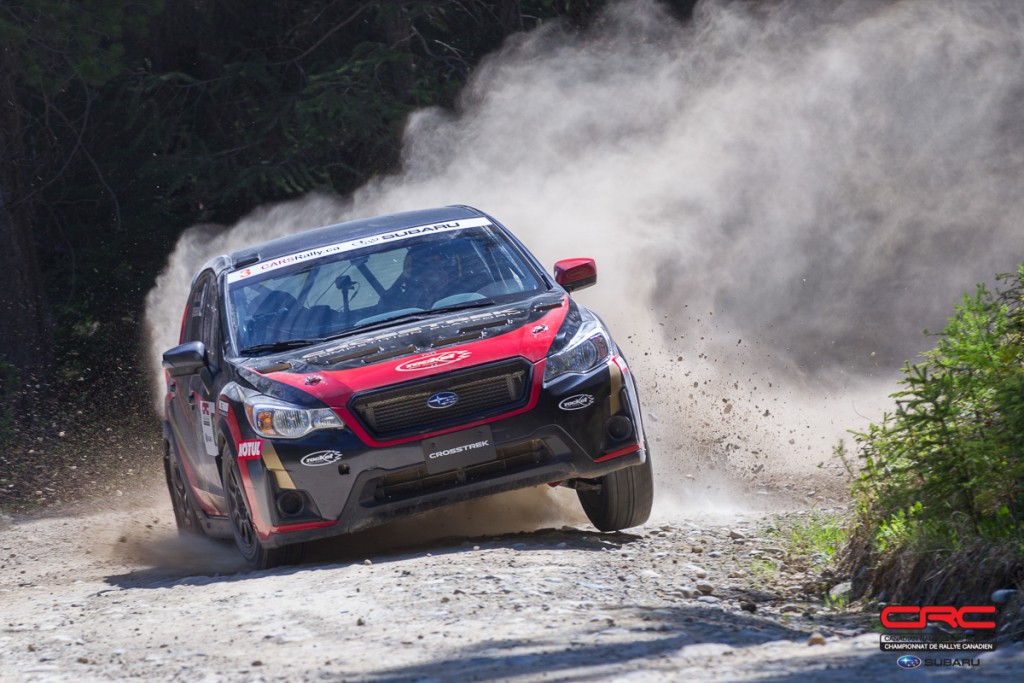 Many cars and crews struggled in the heat of the day, and two teams in particular had to battle for second place, as well as the conditions. Brandon Semenuk and John Hall traded times with rivals Boris Djordjevic and Martin Burnley through the day, with Semenuk edging Djordjevic for the second spot in the standings.
"It was a good battle," said Djordjevic. "We made some setup mistakes and lost time on a couple of stages as a result, but otherwise we were very close, trading seconds. We were really pushing this afternoon."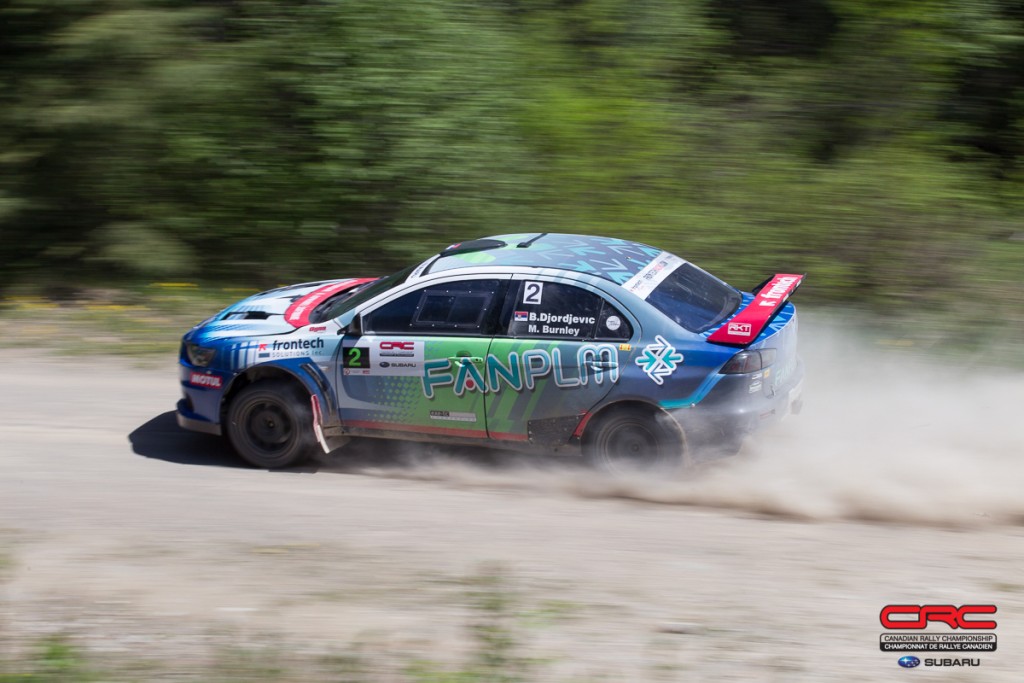 Visibility became an issue late in the day, with dust from the front runners hanging in the roadway, obscuring the path ahead. Lit by the setting sun, at times, the dust looked more like a wall than a cloud, forcing teams to slow down.
"It was a little dusty at the end, especially with the sun coming down through the trees," said Semenuk. "The last two stages were the worst. In a couple of places we had to come almost to a stop because we just couldn't see where we were."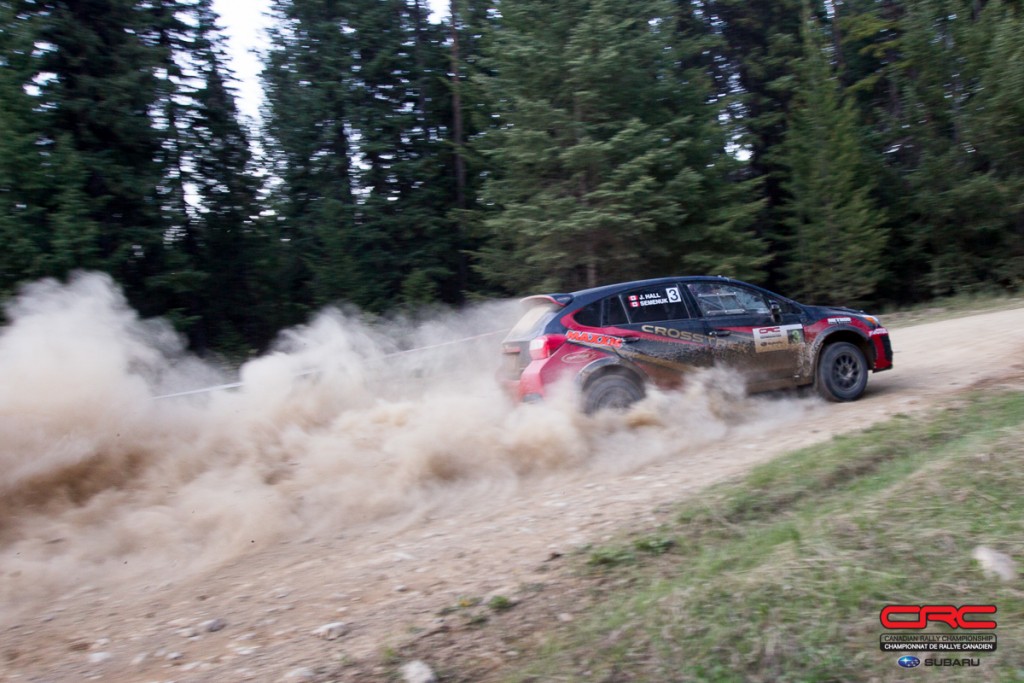 The pair will continue their battle on the Hawke stage tomorrow. While Djordjevic may benefit from a power advantage going up the mountain, coming down, Semenuk feels he may be able to claw back any margin Djordjevic can find. At the end of day one, only 19 seconds separate the two teams.
Dave Clark and Jamie Willetts are leading the two wheel drive class, following a difficult day for rivals Jason Bailey and Shayne Peterson. Clark and Willetts pushed their Merkur to the limit, and have been rewarded with a sixth position overall heading into the overnight break. The pair are more than two minutes ahead of second in class Graham Bruce and Patrick Levesque. However, Clark is uncertain whether he'll be able to maintain that pace through day two.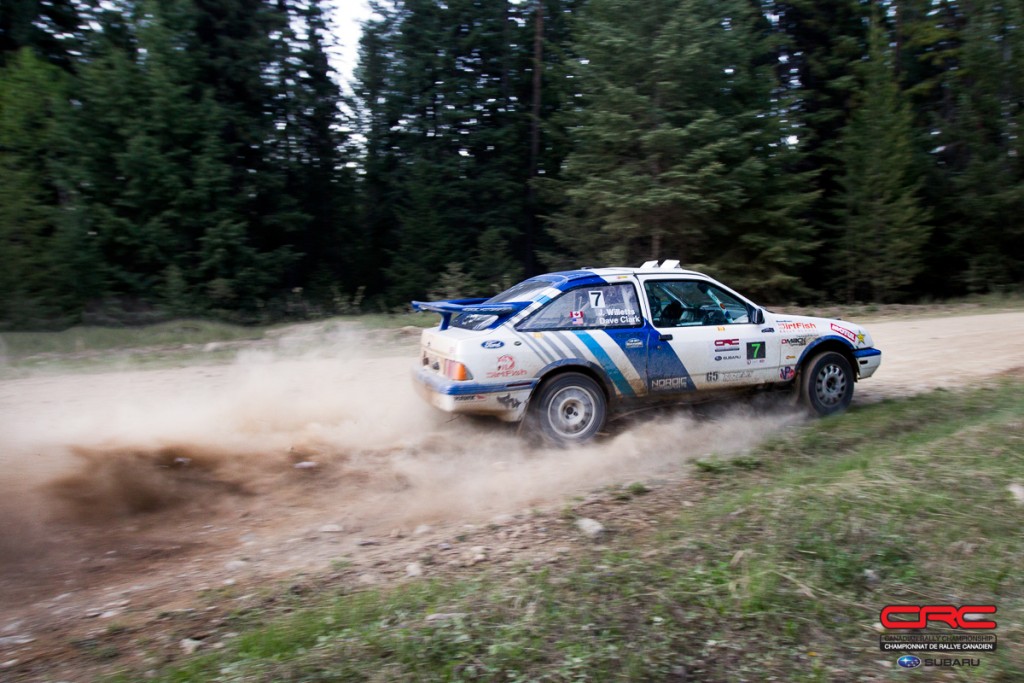 "We pushed really hard today, but our tires are pretty worn out," said Clark. "Unless we can find some fresher tires before tomorrow, we're going to have to slow down a little bit. These roads are very abrasive, and so they're really hard on the tires."
A trio of Production 4WD cars are split by less than 30 seconds in a battle for the class lead.
Eric Grochowski and Leanne Junnila currently lead the group despite problems with their gearbox and alternator. Tomorrow's Hawke stages could see the pair drop from first place in class. Hawke is a hill climb stage where power proves to be an advantage, and Grochowski's car is an older, less powerful vehicle compared to his rivals. His best hope will be to minimize how badly he is beaten on the uphills, and carry as much momentum coming back down the mountain, where power means less.
"I'm not sure if we'll be able to gain enough on the downhills to make up for what we'll lose on the climbs," said Grochowski. "This morning, the transmission was popping out of gear, and then the alternator stopped working. We've been trading times with Pehota and Daly all day, which has been awesome."
Eric Pehota and Jennifer Daly are third in the Production class paddle heading into day two. Just ahead of them are Nicholas Spencer and Peter Brook. With four stages to run on day two, this will be one of the most exciting battles to watch.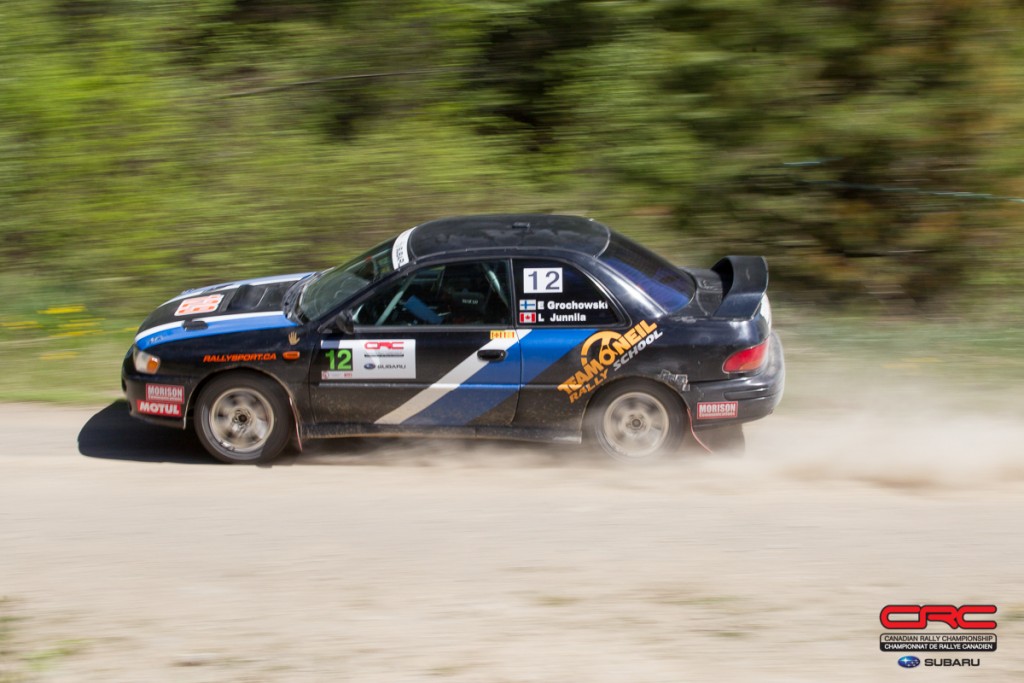 The 2017 Rocky Mountain Rally continues Sunday. Follow our continuing coverage on Facebook and Instagram, and here, for a final report.