Semenuk and Hall steer to day one lead at Big White Winter Rally

Sunday, December 9th, 2018
Words by Dean Campbell. Photos by Dean Campbell and Kris Schofield.
At the finish of the first day of competition at Big White Winter Rally, Brandon Semenuk and John Hall lead the event with a margin of one minute, 20.1 seconds. While the pair finished strong, a spin on the first stage cost the team approximately 30 seconds, a deficit they recovered on the second stage before going on to build their lead through SS3 and SS4.
"The snowbanks aren't very big this year, and on the first stage, I tried to use them like you would bigger snowbanks," said Semenuk. While the spin cost the team time, the consequences were quite low. Semenuk shifted his driving style in the later stages to positive effect, winning the final three stages of the day.
"I focused more on setting up the car heading into each corner, so I didn't have to correct as much in the corner and could carry more speed on the exit," said Semenuk. "It's the old story of 'slow is fast'."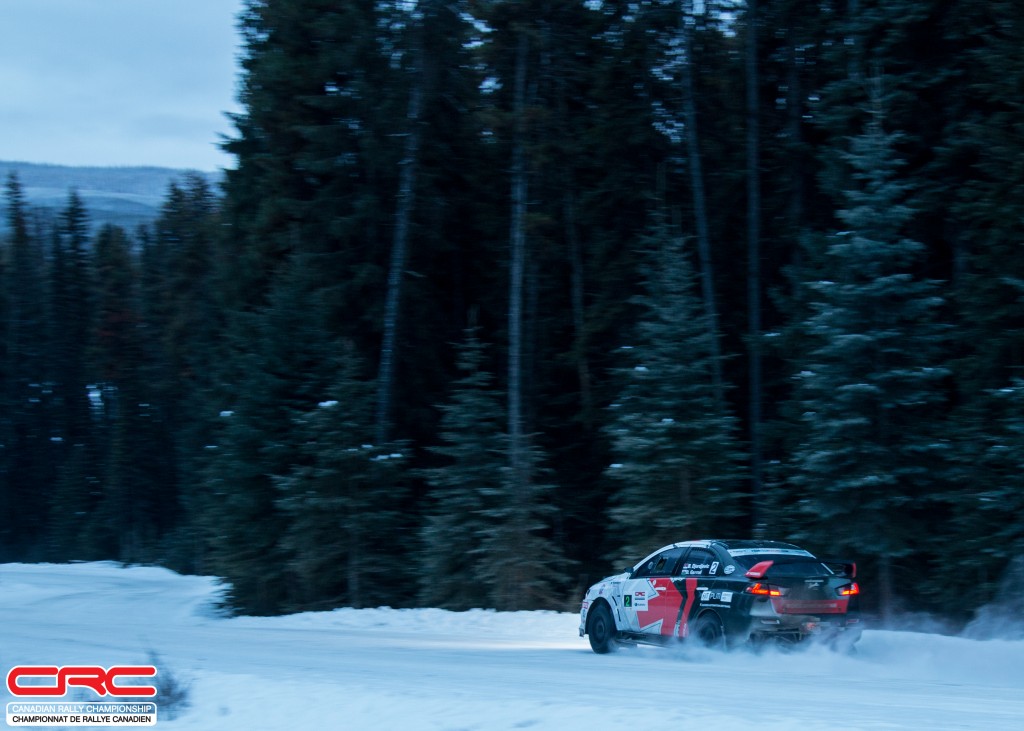 Boris Djordjevic and Darren Garrod won the first stage of the day but couldn't match the pace of the leaders. Djordjevic and Garrod ended the day second overall with 1:06 over third place.
"Things went good today," said Djordjevic. "We just focused on having fun and keeping our focus. We're in a good position for tomorrow."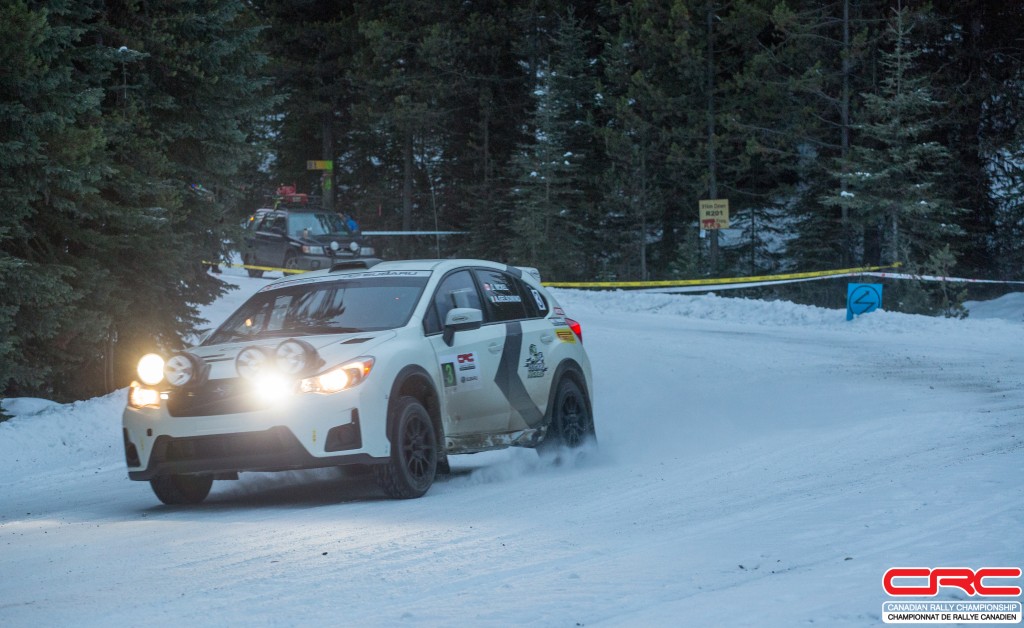 David Nickel and Alex Gelsomino have a comfortable third place despite a couple of moments. However, the car and crew are both in good shape and ready to get back into it tomorrow. The team hold a little more than thirty seconds over fourth-placed Ken Staninck and Martin Burnley.
Stanick and Burnley had a close call on SS3, going wide on the co-driver's side and clipping trees at the side of the road. Miraculously, the team lost almost no time thanks to a lucky bounce that put them back on the road.
Sam Albert and Michelle Miller of Dirtfish Rally School finish the day fifth. Albert has a clear focus to finish fifth or better. Such a result will earn him the North American Rally Cup title. As a result, the team is keeping a consistent risk-free pace.
"We don't have to work that hard this weekend to hit our goal, so we really get to go out and drive to have fun," said Albert. "There's no pressure to finish on the podium."
A three-way battle has shaped up in Production 4WD. Eric Pehota and Jennifer Daly are the class leaders thanks to sharp teamwork and a brisk pace.
"I tend to start fast and then work to defend my lead," said Pehota. "These roads are a lot of fun, but we're definitely working to find traction."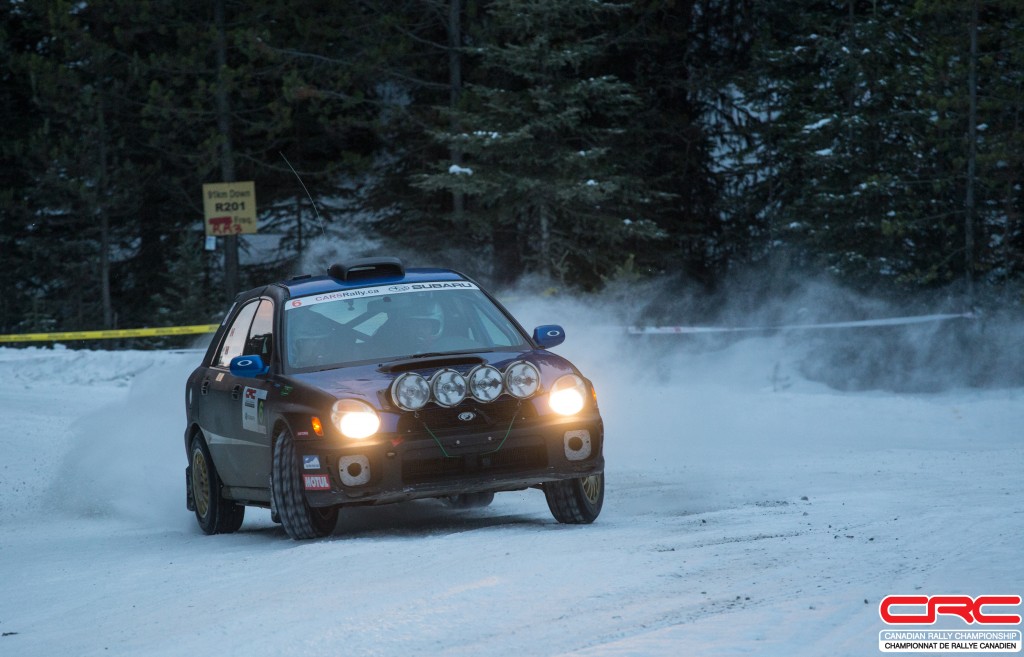 Brandon Liang and Michael Szewczyk are 13.9 seconds back of the class leaders. They had a consistent day and plan to push on day two in an effort to close the gap. They'll also have to keep a close eye behind them to hold off third-in-class Nicholas Spencer and David Ma. Spencer and Ma are seven seconds back, and easily within striking distance of a Production Class win.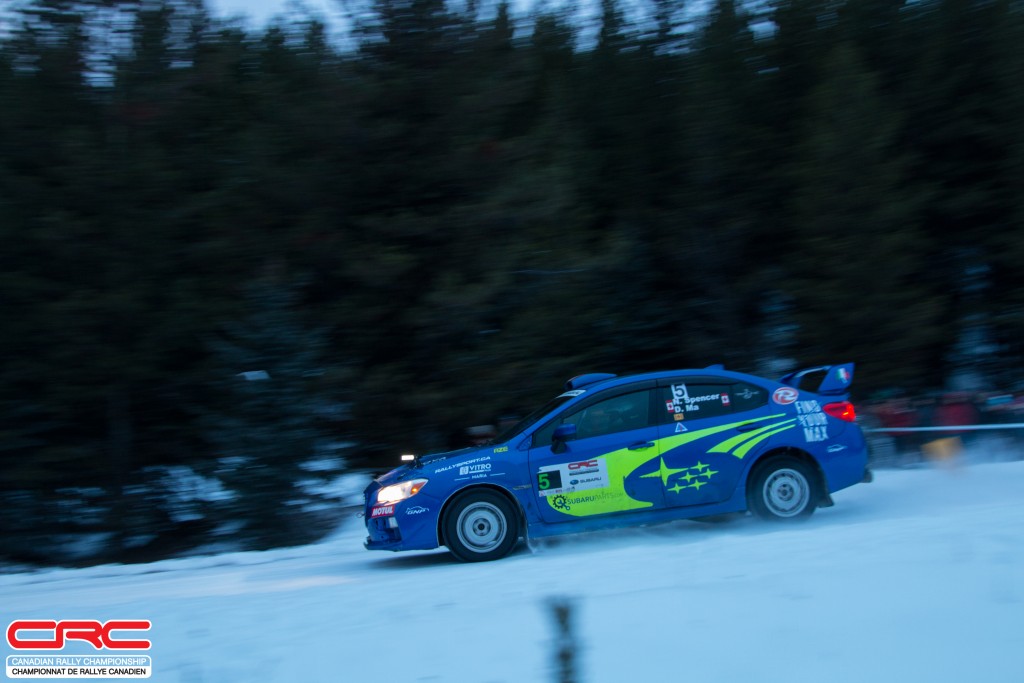 Wim van der Poel and Bryan Lord clinched the 2WD title in late September at the Pacific Forest Rally thanks to a flawless season, winning their class at every round of the Canadian Rally Championship they've entered. Big White Winter Rally marks their fifth CRC event this year, and the pair have started strong, aiming to win a fifth event.
"Things are going good so far," said van der Poel. "We miss having our usual competitors here, Jason Bailey and Shayne Peterson. Dave Clarke too. So we will just go and have fun."
Running second in class are Eric Grochowski and Martin Headland. The pair are competing in a Toyota Corolla that has been heavily modified to use a Supra six-cylinder motor and independent rear suspension. Built by Taisto Heinonen, the car has substantial power and drives differently than other cars run by Grochowski in the past.
"You get on the throttle and there's so much power," said Grochowski. "We took our time on the first stage, and then we've started to push a little more as I get more familiar with the car. We should continue to pick up the pace tomorrow."
Third in class John Munroe and Bill Dubreuil have put in a consistent drive to finish the day 14th overall.
Day one's stages consisted of the Black Forest stage run twice in each direction for a total distance of 64kms. With each successive stage, the surface became more slippery and polished, forcing teams to work not to put a foot wrong. For all the challenge they've had to face today, more than 130kms remains to be run on day two thanks to four passes of the Gem – Falcon stage.
The forecast for tomorrow calls for isolated flurries meaning that teams can expect similar road conditions through the second day of racing.
Be sure to follow the event through the official CRC Facebook and Instagram accounts. Use #crcrally to share your photos and videos from the event.