Besner and Joyal take overnight lead at Rallye Baie des Chaleurs

Saturday, June 30th, 2018
Words by Dean Campbell. Photos by Maxime Poirier and Dean Campbell.
NEW RICHMOND, Quebec – Jean-Sebastien Besner and Yvan Joyal finished the first day of Rallye Baie des Chaleurs leading an event that for most of Besner's career has proven elusive. A cool and collected drive today kept the team out of trouble while all others around them battled circumstance in one way or another, and the pair have been rewarded with a lead of three minutes, 13 seconds heading into the second and final day of racing.
"I can't believe it," said Besner, astonished at his fortunes. "The car has been good all day, the notes have been good, and we haven't had big problems."
Besner's best-ever result at Baie came last year, when he and Joyal finished second, his first podium at this event. To do one the final step better this year seems almost overwhelming.
"It would be amazing for sure," said Besner. "But the rally is still not over, and tomorrow anything can happen. We've seen that already today."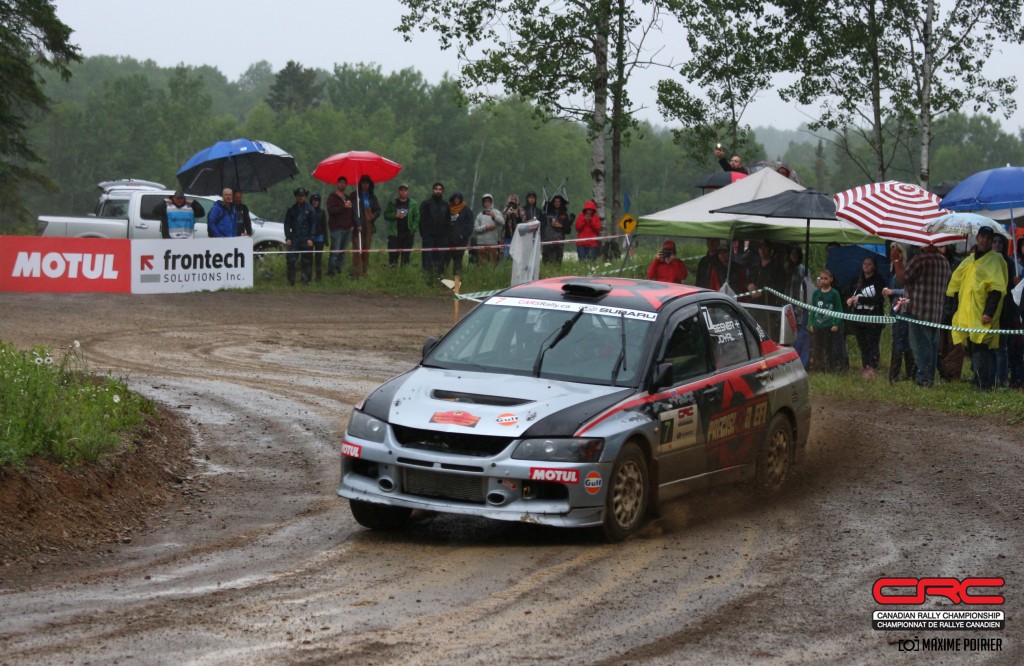 The pair took over the lead late in the day when Joel Levac and Stéphanie Lewis made a critical error that cost them the lead. Leaving service and regrouping, the two took a ten minute penalty after checking into a time control early. It was a devastating mistake, leaving the team so demoralized, they opted not to continue.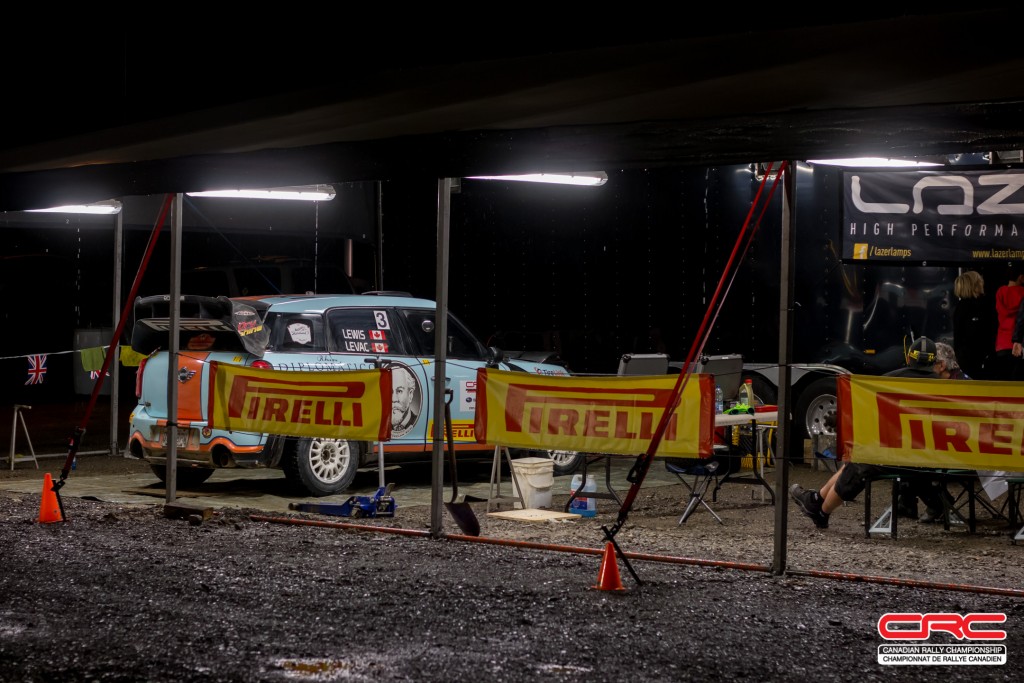 Moving into second place overall is the team of Karel Carré and Samuel Joyal. The two struggled with suspension problems early in the day, and were unable to find their usual pace. The two are competing in their first-ever Rallye Baie, a circumstance that is proving difficult.
"I don't mean to complain about our position," said Carré. "We know we can be faster, and we're just not going at our best pace."
Carré and Joyal lead a trio of teams all within a 12.5 second spread in a battle that will likely be a highlight of tomorrow's racing.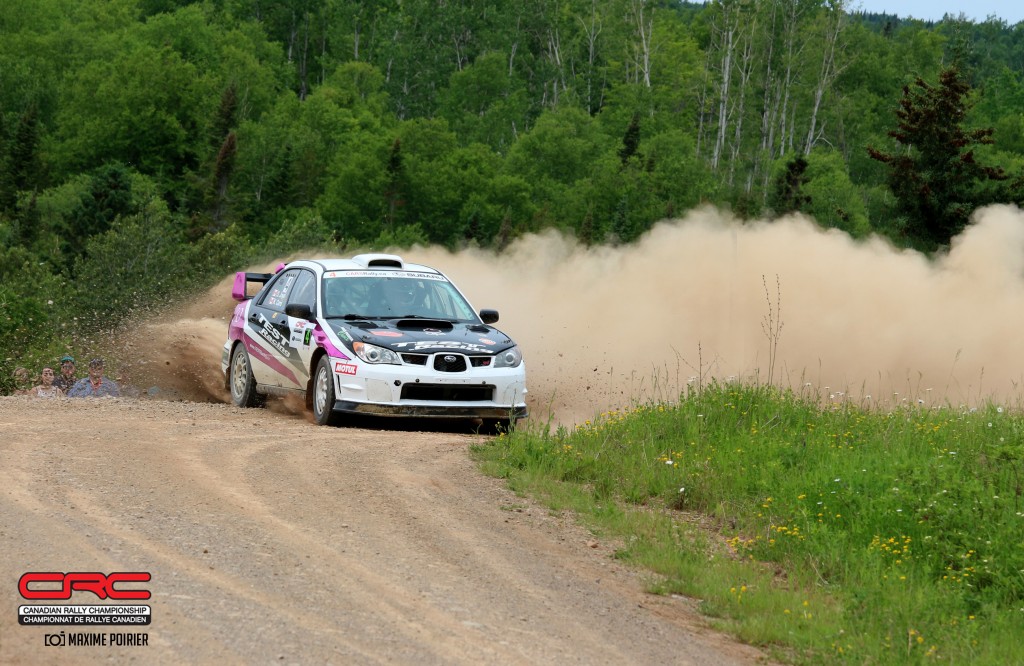 Third overall, and just ten seconds back from Carré are Boris Djordjevic and John Hall. Their car continues to face development issues, and the pair had to run the first three stages of the day with no boost. Once that problem was fixed, they put on a charge, only to lose time to other issues along the way.
"It's difficult to drive at the pace I want at night," said Djordjevic. "I know that in other events, I have been faster in the dark, but with the car, the rain and mud, it's really difficult today."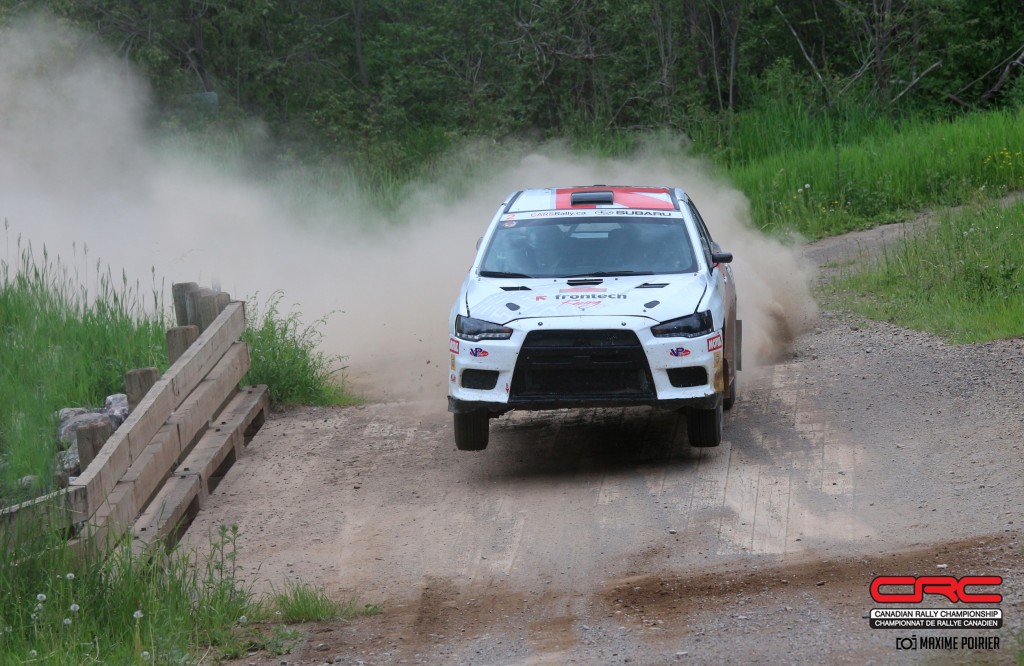 Another team struggling with the conditions is André and René Leblanc. Local to New Richmond, Quebec, the pair have scored podium finishes in front of the home crowd in the past, but are now finding themselves in fourth place after a spin and stall entering the Camp Brule spectator area proved costly.
"We couldn't slow down, so I spun the car to avoid going off the road or hitting the bridge," said André in a frustrated tone. "But then the car stalled and I couldn't get it to restart. We lost maybe a minute; certainly enough that we could have passed Karel and Boris in the standings."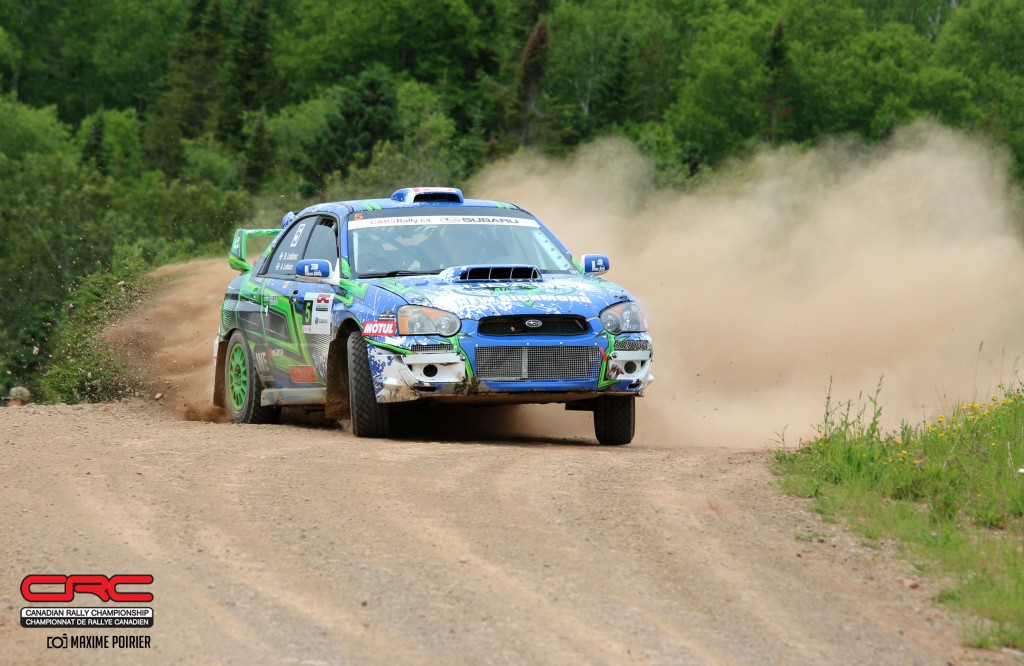 Ending the night in fifth place, Simon Vincent and Hubert Gaudreau will face an uphill battle to hang on to any lead in the championship points tomorrow. The team lost three minutes to a broken driveshaft in the morning, but even with that taken into account, they simply haven't been able to match the pace of the teams ahead. The pair end the night nearly eight minutes back from the leader, and well over four minutes away from the battle for a podium result.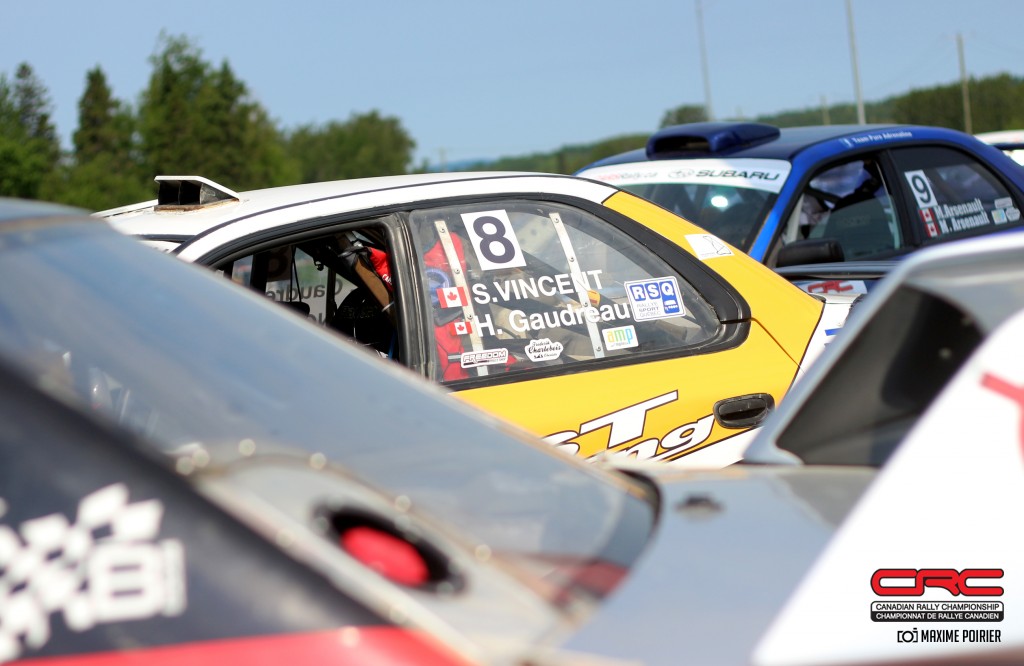 Nicholas Spencer and Pat Lévesque lead the production class after a close call earlier in the day. On seeing their usual rivals out of the rally this morning, Spencer and Lévesque slowed down to minimize risk, and soon found themselves overtaken by Yves Boudreau and Danny Hudon.
"We were a bit surprised that we'd given up time, and at how fast Boudreau and Hudon are going, so we had to step it up to get our position back," said Spencer.
Wim van der Poel and Bryan Lord hold the two-wheel-drive lead with a 20 second margin over Jason Bailey and Shayne Peterson. Van der Poel and Lord switched into the class at the end of 2017, and have adapted quickly to the new car. While van der Poel is humble about his pace, his competition knows just how fast he's going.
"We're pushing for sure," said Bailey. "And Wim is right there trading times with us. When he figures out that car even more, we're in trouble."
In the meantime, both teams are in a position for a class battle, and have Mathieu Leblanc and Éric Dubé ready to challenge just over a minute back from van der Poel and Lord.
The day's action started off under blue skies and sunshine. Through the afternoon, clouds moved in, and the forecasted 1mm of rain turned into substantially more. Rain started at about 5pm and has continued on into the night, turning the stages into slippery mud that punishes even the slightest error.
Tomorrow, the action continues with another full day of stages. Continue to follow our coverage here, and on Facebook, Twitter and Instagram.