Banner Entry for Rocky Mountain Rally 2016

Tuesday, May 17th, 2016
With just over two weeks until Round 2 of the 2016 Canadian Rally Championship, Rocky Mountain Rally is sporting an impressive list of over 36 entries. Top teams from across Canada and America are gearing up for the June 4-5 event in Invermere, BC.
Perennial favourite, Subaru Rally Team Canada's Antoine L'Estage will have to stay on his toes at this event, with several top teams travelling West to keep the pressure on. After a mechanical problem at the opening round, L'Estage finds himself twenty-two points adrift in the Driver's Championship. Subaru leads the Manufacturer Championship with 20 points versus Mitsubishi's 15.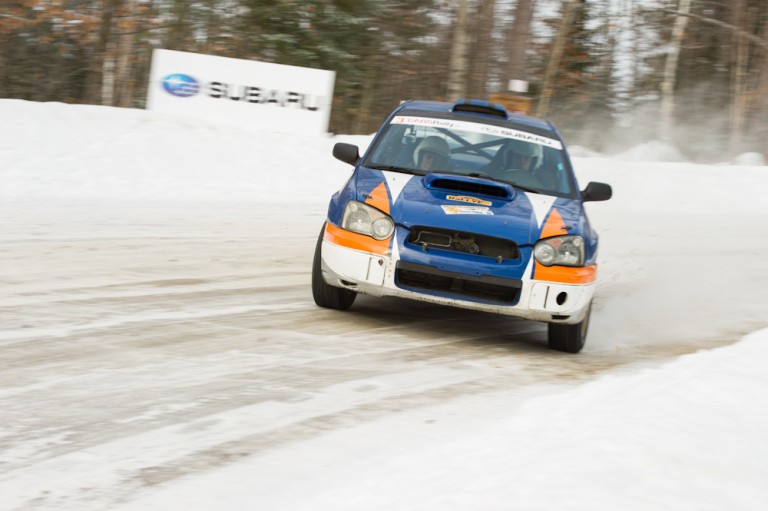 A trio of front-runners from Quebec will be leading the overall charge, including current championship leader, Maxime Labrie, in his tried and tested 2002 Subaru WRX. After shaking down their new widebody Can-Jam Subaru STI at Rallye Perce Neige, Alexandre Béland and co-driver, Lyne Murphy, will be aiming to show what the new car can do on gravel in Invermere. After giving L'Estage a run for his money at several events in 2015, Rallye Défi winners Joël Levac and Stephanie Lewis are bringing their WRC MINI Countryman out West for the first time. The raspy-sounding WRC car is a crowd favourite, and the team has been finding more speed at each rally.
From the Western region, there are equally as many contenders in the mix for top spots. Red Bull mountain bike star, Brandon Semenuk returns with co-driver, John Hall. An emerging talent in the rally world, his second-place finish at Rally of the Tall Pines last year marks him as a strong podium challenger. Boris Djordjevic, third overall in the 2015 Championship, is coming off a fourth-place finish at the Olympus Rally in Washington, and has finished on the podium at Rocky Mountain Rally before. His ex-L'Estage championship-winning car is certainly up to the challenge. Equally comfortable with the roads in Invermere is Hardy Schmitdke, partnering up with experienced co-driver, John Dillon, for this event. Schmidtke has been on the podium at Rocky Mountain Rally for the past two seasons, and is surely looking to cement that reputation with another top finish.
The two-wheel drive competition is looking extremely competitive, with over 15 cars battling for the honours. With last year's 2WD winner, Eric Grochowski moving up to all-wheel drive, it opens the door for young guns, Tanveer Deen and Michael Szewczyk to get their redemption after losing the lead on the final stage in 2015. Current championship leaders, Graham Bruce and Martin Burnley, in the ever-popular 1968 Porsche 911 will be looking to hold onto their standing at an event they know well. From the United States, Dave Clark and Canadian co-driver, Jennifer Daly, will be adding to the pressure at the top of the category in his turbo-powered Merkur, as will returning-champions Jan and Jody Zedril.
Rocky Mountain Rally offers outstanding spectating opportunities throughout the weekend of June 4-5, plus fans and spectators are encouraged to visit the teams up-close and personal in the service area, free of charge. If you can't make it in person, follow Canadian Rally Championship's ongoing coverage on Facebook or Instagram. For spectating, volunteering, or competition information, check out www.rockymountainrally.com. For accommodation specials, call the Copper Point Resort directly to book at the Rocky Mountain Rally rates!
The Canadian Rally Championship is presented by Subaru, and sponsored by Dirtfish Rally School.