Levac and Lewis triumphant at Rallye Défi

Saturday, September 8th, 2018
Words by Dean Campbell, Photos by Jason Nugent
Joel Levac and Stephanie Lewis finish as victors at the 2018 Rallye Défi, after a largely trouble-free run. The pair won every stage in their WRC MINI to finish with an overall time of one hour 46 minutes, seven seconds.
"We are really happy to have such a good rally," said Levac. "The team works hard on all the preparations, and so it's good when things work out so well. It's really good to win this event after not finishing the last rally."
The team only contest a limited number of rallies in the Canadian Rally Championship, withdrawing from the last event after incurring heavy time penalties. Here at Défi, the team performed the mental reset needed to perform at the front of the field.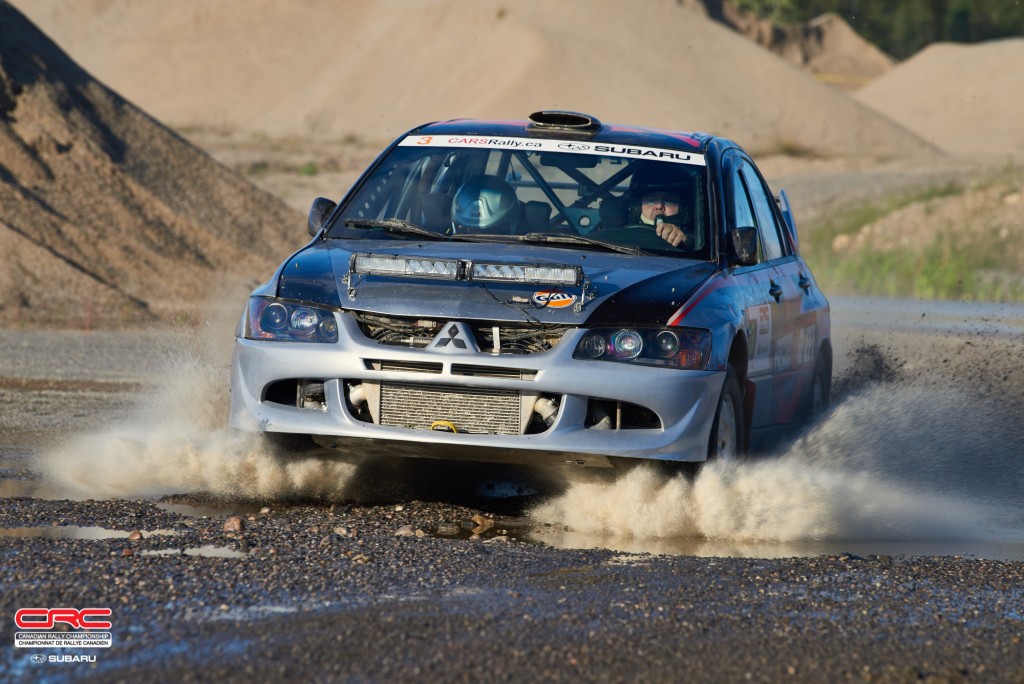 Jean-Sebastian Besner and Yvan Joyal finished with second place on stage times, but dropped to third after a petition for jumping a start led to a two-minute penalty. Besner was frustrated at having been the subject of the penalty but took solace in how the team had performed through the entire rally.
"The whole team did an amazing job this weekend," said Besner. "We did have some problems with an oil leak, and we still don't know exactly where it's leaking, but we were still able to drive fast to be second in stage times."
Besner and Joyal came to Défi having won the Rallye Baie des Chaleurs just two months prior. Besner is still contemplating his plans for the rest of the season but is considering heading west for the Pacific Forest Rally.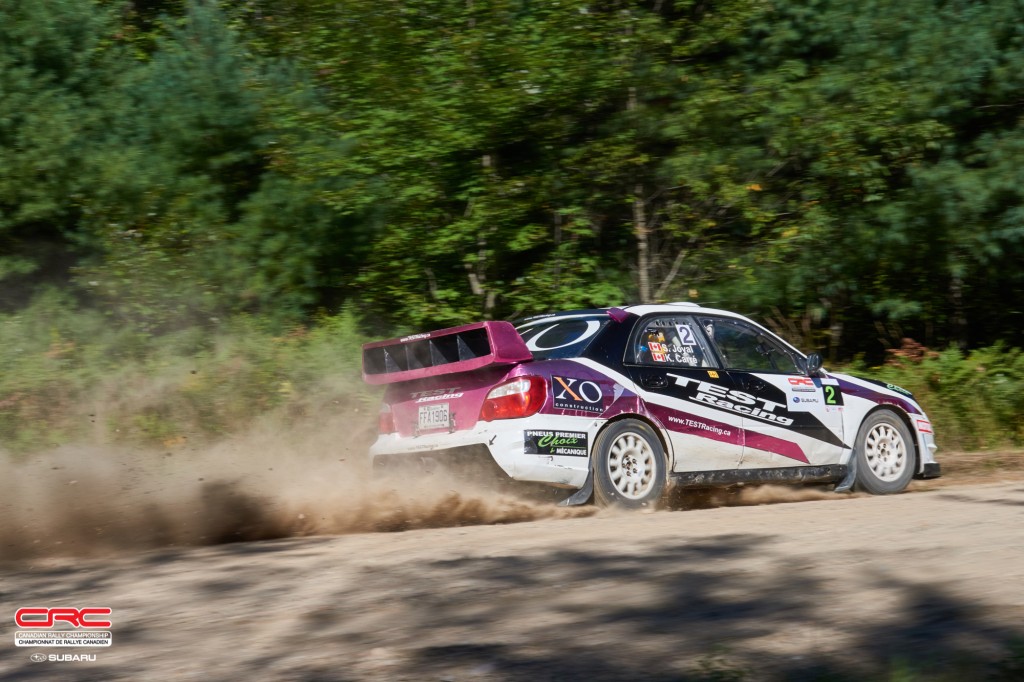 Karel Carré and Samuel Joyal benefited from the penalty to Besner, moving into second place. The team had already taken the lead in the championship through being third fastest on the road, but the change in position means they'll pick up an extra three points in the overall standings.
"We're really happy to have the championship lead. That was our big goal for the weekend," said Carré. "We had some setup difficulties early with the new sequential transmission and a flat tire on the first day, but we were able to get back time all day today."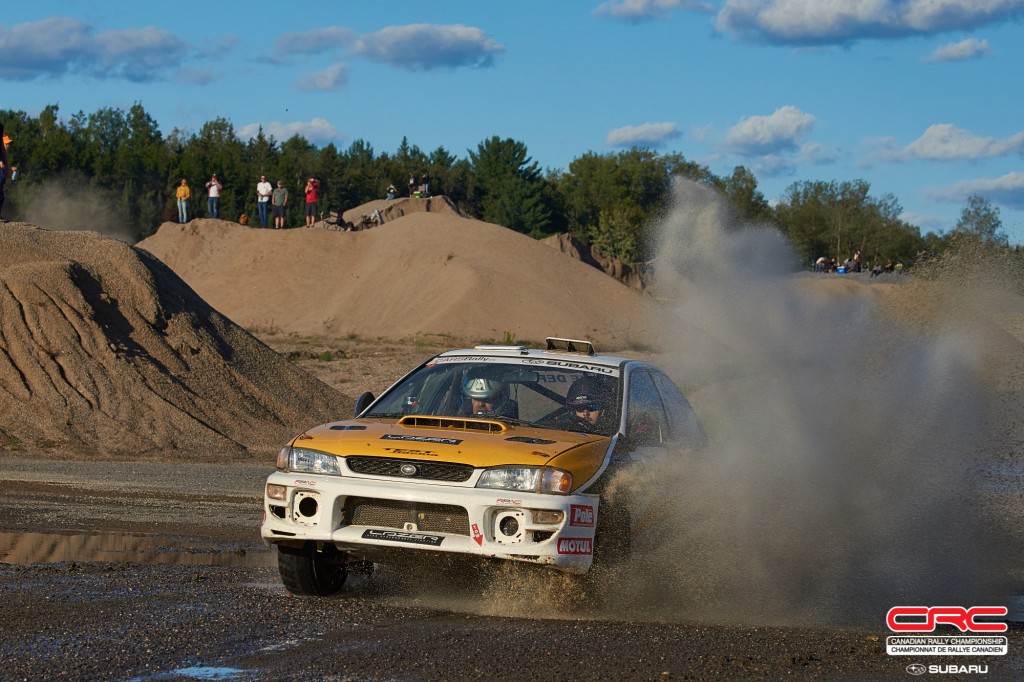 On the first day, Simon Vincent and Hubert Gaudreau pressed their advantage early and finished the day with a small lead over championship rivals Carré and Joyal. Vincent and Gaudreau came into the event with a one-point lead in the championship battle. However, they'll leave with a four-point deficit after finishing fourth this weekend.
"It was a tough event, and we had a flat today in a section where we pushed too hard," said Vincent.
"We are getting faster, which is a big part of what we're working on. Fourth place is still a good result for the championship," added Gaudreau.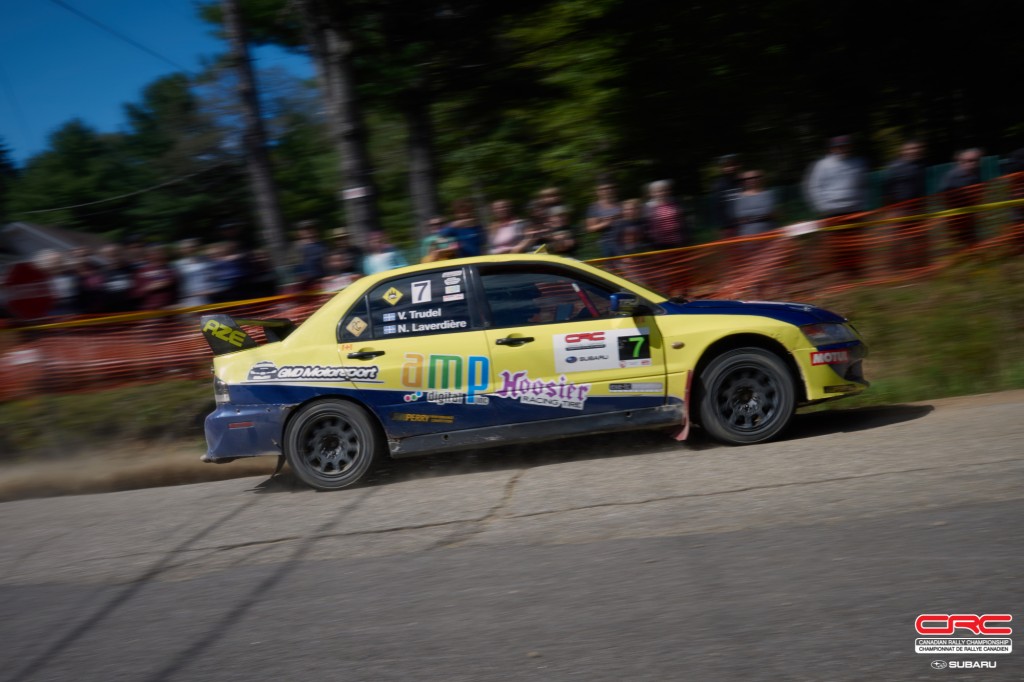 Nicolas Laverdiere and Vincent Trudel finished a strong fifth place. As the lone Production 4WD entry, the team also took top points in their class championship hunt. Even though they had no direct competitors, they pushed the pace and incurred some damage to a control arm on Saturday. The team were able to make repairs in the short 20 minute service and continue on.
"To finish fifth at this rally is great for us, after some bad luck at other rallies," said Laverdiere. "We had problems today when we thought we broke a rear wishbone, but it was actually the mount on the body that broke. I welded it, and we kept going, but it broke again on the final loop of stages so we had to slow down."
Adam Kimmett tried out his first Canadian rally. Coming from outside Washington DC, Kimmett was joined by co-driver Michelle Miller. The pair were fast from the outset, finishing sixth overall.
"I loved those last two loops of stages," said Kimmett. "If there was a rally that was entirely roads like that, it would be my favourite rally for sure."
Wim van der Poel and Bryan Lord won the 2WD class, after a close battle with Mathieu Leblanc and Eric Dubé. Van der Poel and Lord pulled ahead after Leblanc and Dubé had mechanical problems and failed to finish. Van der Poel and Lord had troubles of their own revealing that for much of the rally, their car was down on power. Rather than risk further damage, the pair took a more conservative pace in order to be able to find and solve the problem ahead of the Pacific Forest Rally in three weeks time.
"Even though the car really didn't have much top end, we were still able to go really fast in the twisty sections," said Van der Poel. "There was one stretch where I was faster on that kind of road than I think I have ever been."
Second in 2WD went to Patrick and Dan Cyr, who are new to rally. Pat Cyr has experience as a drifter but is working to develop faster – though less spectacular – lines. The two were fan favourites for their opposite lock style. Third in 2WD were Daniel Downey and Kevin Brolin, in a BMW 325is.