"Crazy" Leo Urlichich wins Rallye Perce Neige

Sunday, February 5th, 2017
Crazy Leo Urlichich won the opening round of the 2017 Canadian Rally Championship season, Rallye Perce Neige. Driving a freshly built Production-class Subaru, Urlichich was co-driven by Alex Kihurani. The pair put in an excellent performance to beat many teams with more impressive machinery.
The pair quickly moved into a top five position early in the event, and found themselves moving higher as other teams were unable to maintain consistency either due to equipment problems or team errors. By the first pass of the Tortue stage in mid afternoon, Urlichich and Kihurani moved into the lead of the Canadian standings and held their advantage to the finish.
"I love the studded tires," said Urlichich. "There are no more big moments and instead we had really consistent driving. It almost seems too easy, but it was a good event."
"The second pass on the forest stages were quite rough and rutted. Having the power of an Open-class car would have been good in there for sure."
Urlichich first started by competing in Open class. After a few years of mixed fortunes in Canada, he was able to secure a coveted spot driving a two-wheel drive car in a branch of the World Rally Championship. Again, fortunes there were mixed, and by the end of the year, Urlichich was forced to push pause on his racing career and instead spent time developing a driving school to share his experience while keeping his skills sharp.
"The event went really well," said Kihurani. "Leo has a lot of words and complexity in his notes, so we worked together before the rally so I could learn his system. It paid off because we had a good rally with no moments, no drama.
"We came out here to win production and ended up doing quite a bit more. It couldn't have gone better."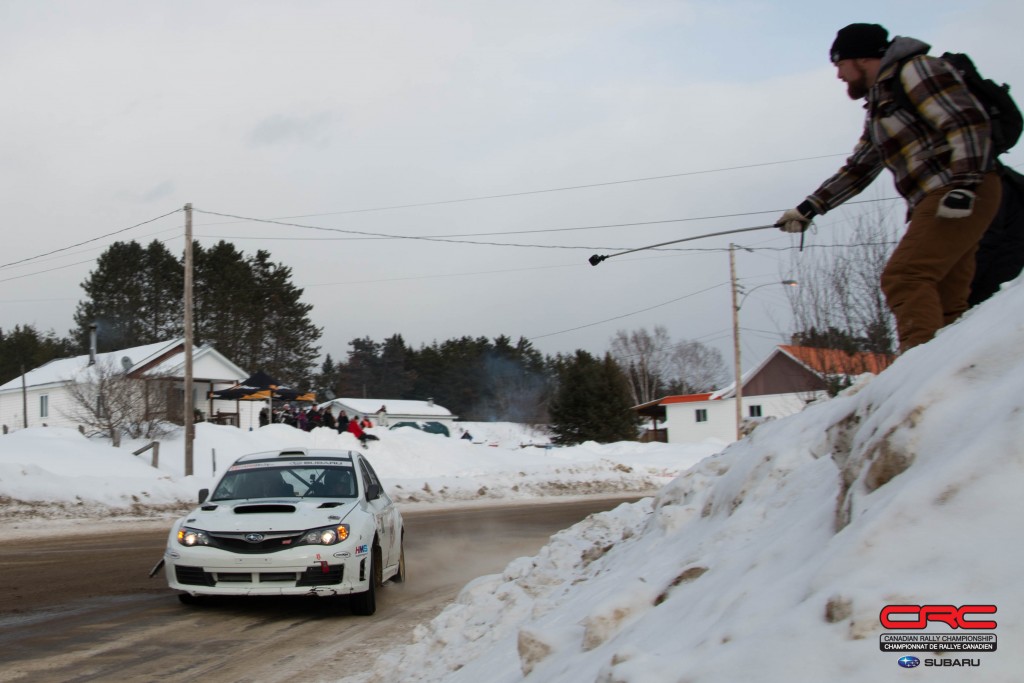 After a seven year absence from Canadian rallying, Bill Bacon returned to the great white north with co-driver Gregorz Dorman. Bacon was known for smooth and fast driving during his run with Suzuki Canada in a Swift+ before building his own car to run as a privateer. He's been out of competition in general for a number of years, but the absence clearly wasn't much of an issue for the driver from Massachusetts. He promised not to be spectacular, and true to his history, stayed cool and collected from start to finish. In the final stages of the rally, Bacon and Dorman were running in third place and closing on second.
"I'm a little surprised," said Bacon. "I didn't know what to expect coming here and really just wanted to get a good drive in and get some miles behind us.
"It's a really long event, and the way it's formatted now, you almost might as well not have a service because of the distances you're coming – they're huge legs. I didn't know my stage times or where we stood until the final service."
Bacon has said he is unsure of his ambitions with the return to the sport. For Rally Perce Neige, Bacon rented a competition Subaru from Rocket Rally, in Squamish, B.C. Without his own car, Bacon is weighing his options.
"If I was on the fence about doing more events before, we're certainly more interested now," said Bacon.
The team Bacon and Dorman caught in the closing stages of the event was that of Sylvain Erickson and Patrick Levesque. Erickson is local to the region, and has a deep history in Canadian rallying. Over the last few years, he has been working to develop a totally custom Open-class car but technical problems have plagued the project. For Rallye Perce Neige, Erickson was able to borrow a car from a friend, and put that car to good use.
Erickson and Levesque struggled with problems over the final stages and lost time, dropping to third place before arriving at the finish.
"I feel really happy with this result," said Erickson. "I have a new co-driver, and a different car. We had a really good event, but had major brake problems in the last two stages and lost second place. The event has been incredible. Really well organized, and with lots of spectators on the stages."
The Canadian two-wheel drive field was especially hard hit by the difficult conditions. Cameron Steely and Preston Osborn overcame an off to finish at the top of the standings. Steely and Osborn have a lot of experience in two-wheel drive, but coming from Colorado, were new to running studded tires on ice and snow.
"You know, it was a really tough event and we definitely had our problems – including spending time on our roof," said Steely. "But it was a tough event for everyone and we seemed to get through the problems best."
The only other finishers in the class were Dave Wallingford and Leanne Junnila. Running late into the evening, the pair got stuck on a snowbank before getting free and arriving at the finish control and podium celebration.
Eric Grochowski and Keith Morrison finished second in Production class followed by Nicholas Laverdiere and Vincent Trudel.
Subaru Rally Team Canada's Antoine L'Estage has reunited with co-driver Alan Ockwell for the 2017 season. The team has won two titles competing together, and had big ambitions coming into Perce Neige. The team took an initial lead through the first three stages, instantly comfortable on the familiar roads and conditions.
However, things took a turn for the worse on the fourth stage when driveline problems resulted in the loss of the all wheel drive system. The team dropped from the overall lead down to third, and then took heavy penalties in service to get the car fixed. Technical issues continued through the rest of the event until the team were finally sidelined deep in the forest stages of the final leg.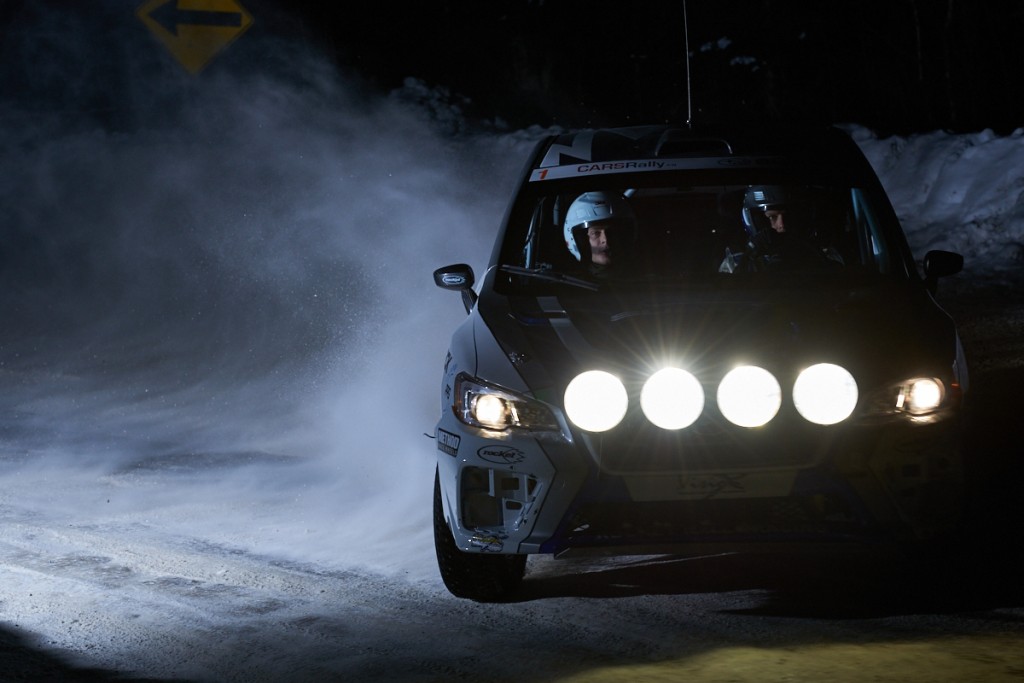 Rallye Perce Neige also played host to the inaugural round of the American Rally Association championship. The series is highlighted by the entry of the Subaru Rally Team USA, who arrived in Maniwaki with drivers David Higgins and Travis Pastrana. Neither driver had previously entered Rallye Perce Neige, but the teams quickly got on pace. Running concurrently with the Canadian Rally Championship, the American competitors took over the leading positions on the road.
Higgins and co-driver Craig Drew won the event overall, and within took the top spot in the ARA standings. Teammates Pastrana and co-driver Robbie Durant finished second in the ARA standings, nearly four minutes back from Higgins and Drew.
"What an amazing event," said Pastrana. "I really love coming up to Canada to rally, and had a great time here.
"It was a tough event with really demanding roads and conditions, and you needed a lot of endurance for this one."
Urlichich and Kihurani had also entered the ARA competition, and took the third spot on that podium.
Ryan Millen and Rhiannon Gelsomino won the two-wheel drive ARA class, having enjoyed the benefits of studded tires to make the most of his Toyota RAV4.
The Canadian Rally Championship continues at Rocky Mountain Rally, in Invermere B.C., May 26-28, 2017.
You can find out more about the Canadian Rally Championship at crcrally.com, and follow the series on Facebook, Instagram, and Twitter. Share your questions, comments, photos and videos using #crcrally