ECRC- CREC Jean-Sébastien Besner and Yvan Joyal Launch Their Season with a Rallye Perce-Neige Maniwaki Victory

Monday, February 6th, 2023
February 5th, 2023.- Returning to its traditional date in the heart of winter, the Rallye Perce-Neige Maniwaki, held in the Haute Gatineau region of Québec, kicked off the Canadian national rally season this past weekend. Competing in the Eastern Canadian Rally Championship (ECRC) portion of the rally, this season-launching event was won by two-time series champion (2016, 2028) Jean-Sébastien Besner, in a Mitsubishi Evo Lancer. Co-driven by Yvan Joyal, the Montreal driver was consistent on the icy and snowy roads that made up this challenging rally.
Showcasing excellent speed while avoiding any mishaps, Besner and Joyal claimed victory by a margin of just over 2 minutes and 15 seconds over Simon Aubé and François Joanisse. At the wheel of their Subaru WRX STI, the novice team of Aubé and Joanisse passed the majority of the favoured and more experienced teams by finished second in ECRC and first amongst the novice competitors. Their performance in such a tricky rally contested on very difficult road conditions that left no room for error, demonstrates that this duo has a very promising season ahead of them.
In addition to finishing in third place overall, Vincent Trudel, co-driven by Albertan Michael Szewczyk, also won the Production 4-Wheel Drive Class in a Subaru WRX STI. They finished with a slim lead of 25.8 seconds ahead of the Francophone-American Emmanuel Cecchet and his Quebec co-driver Jonathan Desgroseilliers, also in a Subaru WRX STI.
Back to rally competition after spending several seasons contesting the Nissan Sentra Cup, Simon Vincent's rally-driving muscle memory didn't take too long to kick in and bring him amongst the event leaders. Accompanied by his co-driver Hubert Gaudreau, Vincent was poised for victory in his Subaru WRX STI but losing 5 minutes on the ninth stage eliminated those hopes. The Vincent/Gaudreau eventually finished in fifth spot, 4 minutes and 54 seconds behind the fastest team.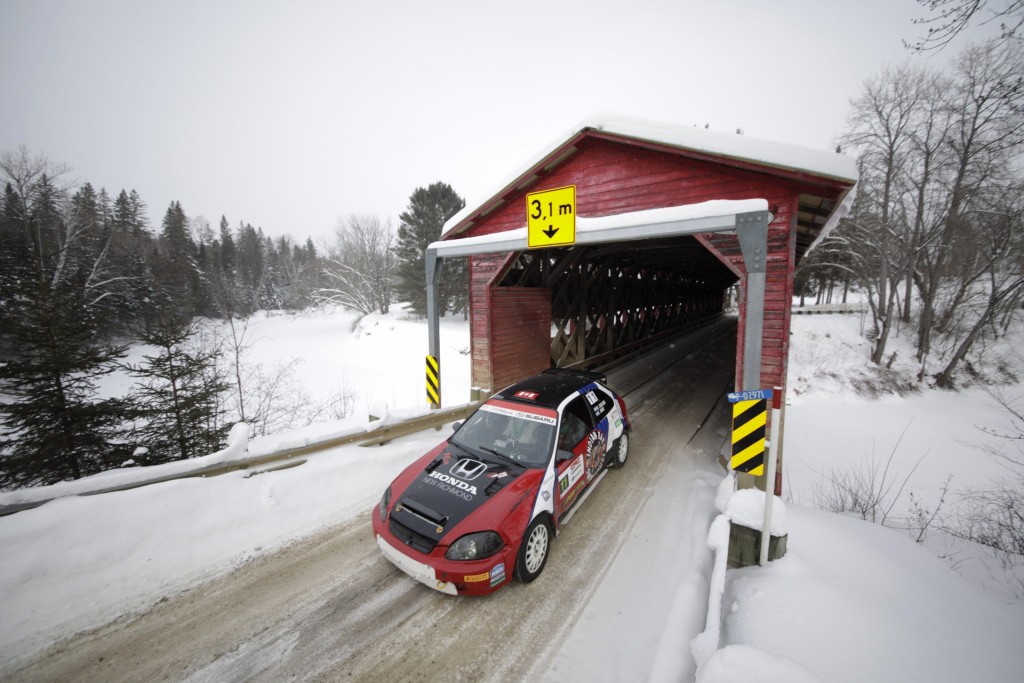 The Top 6 in the ECRC overall standings was rounded out by Mathieu Leblanc and Éric Dubé.  In their Honda Civic, this team also won the 2-Wheel Drive Class. On the icy Perce-Neige roads, this class victory, coupled with their 6th place overall, is an excellent weekend for a two-wheel drive team. This result puts the team from Gaspé as the early favourites for the ECRC 2WD title.
Finishing less than 5 seconds off the overall Top 6, Gabriel Monette and Danny Hudon (Subaru) ended in seventh, ahead of William Pardiac and Manuel Arsenault (also in a Subaru and second in Novice).
The ninth and tenth overall places went to the teams finishing in second and third in 2-Wheel Drive Class. After a tight battle, Mathieu Royer and Alyssa Voyzelle-Montminy beat defending class champion Kurt Duddy, co-driven by Matthieu Toupin. Both teams were contesting the event in Nissan Sentras.
At the start of this 57th edition of the Rallye Perce-Neige, the recorded temperature was -36 degrees Celsius. Despite these frigid temperatures, this year will go down as one of the least mechanically destructive in history. Only three of the 22 ECRC-registered teams couldn't finish the event.
The Eastern Canadian Rally Championship (ECRC) consists of eight events this season, spread out between Ontario and Quebec. The next round will take place on Jun 10th, as part of the Rallye International de Mékinac, in Mauricie (Quebec).
The 2023 Rallye Perce-Neige also counted towards the North American Rally Cup and the Canadian Rally Championship. Quebeckers Alexandre Moreau and Ian Guité (Subaru WRX STI) claimed overall victory in those standings, ahead of Jean-Sébastien Besner and Yvan Joyal.
For more information, please visit: www.ecrc-crec.ca
Photo credit © Clément Tavernier / poleposition.ca
2023 Calendrier ECRC
Date
Event
Town (Province) / Club
2023 Winners
February 4
Rallye Perce-Neige
Maniwaki (Quebec)

Club Rallye Maniwaki

Overall : J.S.Besner & Yvan Joyal

2WD : Mathieu Leblanc & Éric Dubé

June 10
Rallye International de Mékinac
Lac-aux-Sables (Quebec)

Club Auto Défi Outaouais

July 1 & 2
Rallye Baie-des-Chaleurs
New Richmond (Quebec)

Club Rallye Auto Baie-des-Chaleurs

August 12
Black Bear Rally
Catchacoma (Ontario)

Maple Leaf Rally Club

September 8 & 9
Rallye Défi Petite Nation
Montpellier (Quebec)

Club Autosport Défi Outaouais

October 21 & 22
Rallye de Charlevoix
La Malbaie (Quebec)

Club Rallye De Charlevoix

November 25
Tall Pines Rally Regional 1
Bancroft (Ontario)

Maple Leaf Rally Club

November 25
Tall Pines Rally Regional 2
Bancroft (Ontario)

Maple Leaf Rally Club