ECRC – CREC Double Tall Pines Rally Victory and 2022 Championship Title for Olivier Martel and Vincent Hubert!

Monday, November 28th, 2022
November 27, 2022.- The conclusion of the 2022 Eastern Canadian Rally Championship (ECRC) took place this weekend with a double-header program as part of Bancroft, Ontario's Rally of the Tall Pines. On frozen gravel roads covered in ice patches and mud, competitors needed to fine tune their concentration levels for this event. Olivier Martel and Vincent Hubert were up to the challenge and won both regional rounds in their Test Racing Subaru WRX STI. In doing so, the duo also claimed the 2022 ECRC driver's and co-driver's championship titles.
The Quebec team's double victory adds to their win at the Rallye Perce-Neige that opened the season. Martel also won the Rallye de Charlevoix last month but with Hubert absent from that event, co-driver Hubert needed the points a double victory would bring, in order to clinch the 2022 co-driver's title. Their objective was met this weekend as he and driver Martel completely dominated the two regional events presented as part of the 2022 Rally of the Tall Pines Rally.
As of the first regional, comprised of eight morning competitive stages and three short spectator stages, Martel and Hubert built a lead of one minute and 40 seconds over fellow Quebec competitors Jean-Sébastien Besner and Yvan Joyal (Mitsubishi Evo Lancer). The battle for second place was contested by 4 teams with Besner/Joyal finishing with a gap of 24.8 seconds over Jonathan Drake and Ian Lantz (third in their Subaru WRX STI). Less than 40 seconds behind them were Ontarians Mathew Ballinger and Gary Sutherland (4th) and Trevor Pougnet/Ryan Rouleau (5th), both in Subaru and respectively finishing in first and second places in the Production 4-wheel drive class.
The Top 6 was rounded out by Gabriel Monette and Lyne Turgeon (Subaru), just 0.2 seconds ahead of Phil Wearn and Kyle Miller (Subaru) while in 2-wheel drive class, Kurtis Duddy and Matthieu Toupin (Nissan Sentra) cliched a third consecutive victory this season. They also finished in ninth place overall, one position ahead of Production 2WD winners Crawford New and Zvonimir Bracika (Plymouth Neon)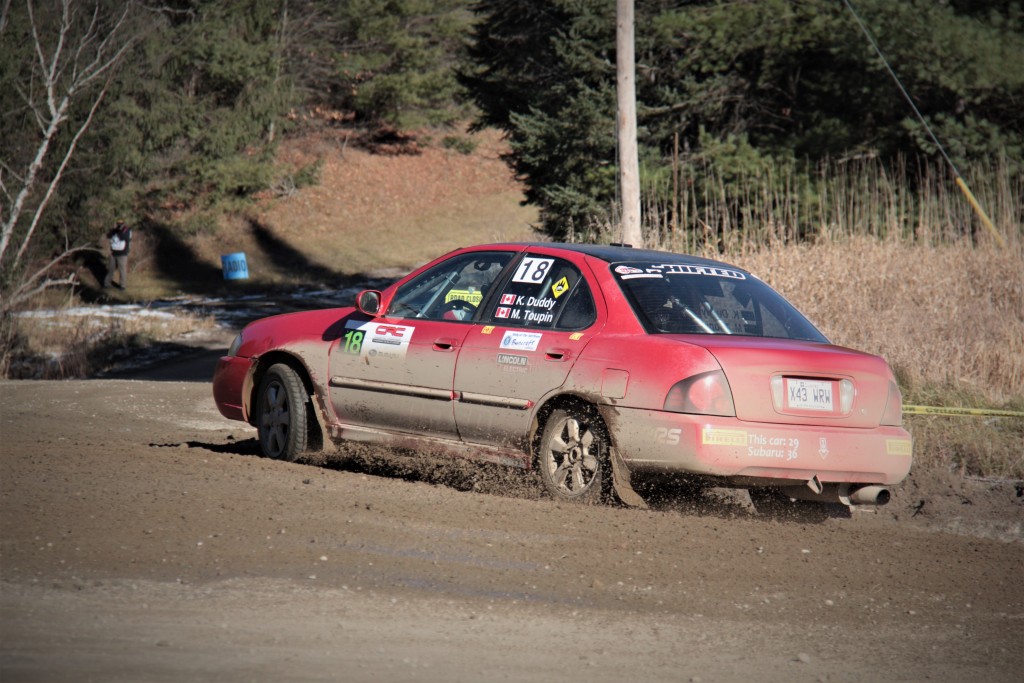 The second regional event saw Martel/Hubert win once again, this time with a 30.7 second lead over Rouleau/Pougnet, their closest rivals in the hunt for the 2022 ECRC title. Besner/Joyal finished in third place, just 0.9 second behind Rouleau and Pougnet.
Ballinger/Sutherland finished in 4th place, trailing the leaders by 46 seconds at the end of the 8 new stages, highlighted by strong battles amongst the leaders. Monette/Turgeon, Wearn/Miller and Martin Donnelley/Cezary Maciocha (Subaru) completed the Top 7 ahead of Kurtis Duddy and Matthieu Toupin, 8th overall and once again, 2-wheel drive leaders. This teams also claimed the 2022 title in its category.
Two minutes and 32 seconds behind Duddy/Toupin were Charles Hammer and Guillaume Dezois in their historic Volvo 242, finishing second in 2-wheel drive to go along with their third place 2WD finish in the first round. New/Bracika finished third and again first in Production 2WD class.
In total, 13 of the 17 Eastern Canadian Rally Championship competitors completed the 2022 Tall Pines Rally. The event also counted towards the Canadian Rally Championship, with victory going to Jérôme Mailloux and Philippe Poirier (Subaru WRX STI).
The 2023 season of the Eastern Canadian Rally Championship will kick off on February 4th, with the Rallye Perce-Neige Maniwaki, in the Haute Gatineau region of Quebec.
For all information and complete standings of the 2022 ECRC, please visit www.ecrc-crec.ca
Photo credit © Richard Bouchard
2022 ECRC Calendar
Date
Event
City (Province) / Club
2022 Winners
April 2
Rallye Perce-Neige
Maniwaki (Quebec)

Club Rallye Maniwaki

Overall : Olivier Martel & Vincent Hubert

2WD : Mal Swann & Tim Dine

July 2 & 3
Rallye Baie-des-Chaleurs
New Richmond (Quebec)

Club Rallye Auto Baie-des-Chaleurs

Overall : Sébastien Clark & Yanick Marin

2WD : Hans Larose & Alex Pesant

July 16
Rallye International de Québec – Tour de Portneuf
Portneuf (Québec)

Club Autos Sport La Licorne + CADO

Overall : Philippe Dubé & Éric Dubé

2WD : Hans Larose & Éric Guité

August 6
Black Bear Rally
Gilmour (Ontario)

Maple Leaf Rally Club

Overall : Jonathan Drake & Ian Lantz

2WD : Charles Hammer & Guillaume Dozois

September 9 & 10
Rallye Défi
Montpellier (Quebec)

Club Autosport Défi Outaouais

Overall : Jean-Sebastien Besner & Yvan Joyal

2WD : Kurt Duddy & Matthieu Toupin

October 22 & 23
Rallye de Charlevoix
La Malbaie (Quebec)

Club Rallye De Charlevoix

Overall : Olivier Martel & M.F. Desmarais

2WD : Kurtis Duddy & Matthieu Toupin

November 26
Tall Pines Rally Regional 1
Bancroft (Ontario)

Maple Leaf Rally Club

Overall : Olivier Martel & Vincent Hubert

2WD : Kurtis Duddy & Matthieu Toupin

November 26
Tall Pines Rally Regional 2
Bancroft (Ontario)

Maple Leaf Rally Club

Overall : Olivier Martel & Vincent Hubert

2WD : Kurtis Duddy & Matthieu Toupin