Semenuk holds small lead at Rocky Mountain Rally

Saturday, May 25th, 2019
Words by Dean Campbell. Photos by Andrew Snucins.
After a wet, muddy, slippery first day of stages at Rocky Mountain Rally in Invermere, B.C., Brandon Semenuk and John Hall are carrying a slight lead into the final day of action tomorrow. The two have carved out a 26.7 second margin over nearly 90km of stage, but they'll have to work to hold it to the end of the event.
"It's definitely a close battle with Levac. That last pass I felt more at home with the car, but he was pushing harder," said Semenuk.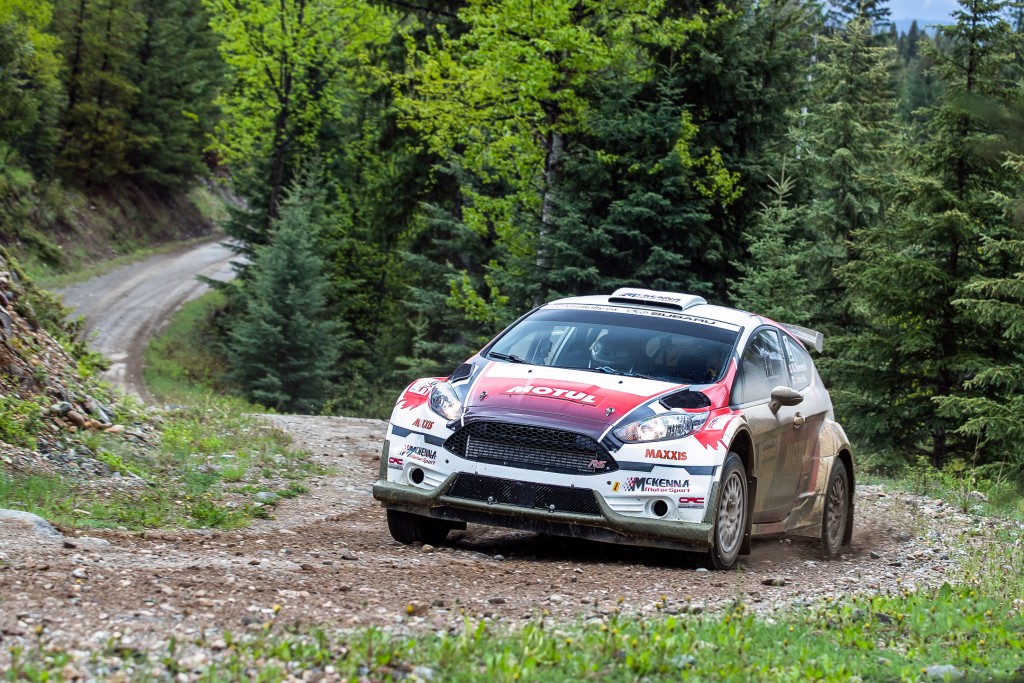 Tomorrow, the teams will do two passes up and down the Hawke stage. While the uphill can often be a test of power, the downhill is a test of nerves, and one where Semenuk has typically performed well. However, for this event, Semenuk is in Ford Fiesta R5, a car he's never driven before. His ability to learn and squeeze the most out of the car will be tested.
"The Hawke stages will be good, I like that stage. Up Hawke is a great stage, but hopefully on the way down I can make some extra time, that's what I seem to do well," said Semenuk. "The car's been great, I just need to learn how to drive it better."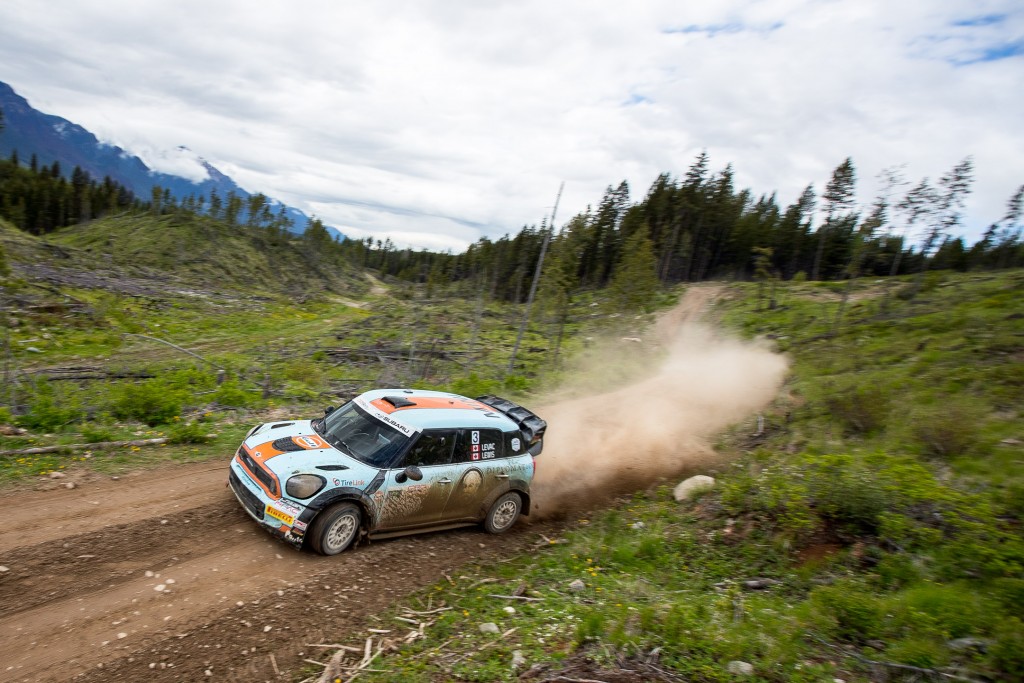 Meanwhile, Joel Levac and Stephanie Lewis are sitting in second place, and taking a long hard look at how much time they can gain on the leaders tomorrow.
"We have had a good last loop, but Brandon beat me on each stage. We don't have any problems, but we don't have the right pace right now," said Levac. "It will be the first time for me to do the Hawke stage, so I will learn a bit, but I think it will be fun."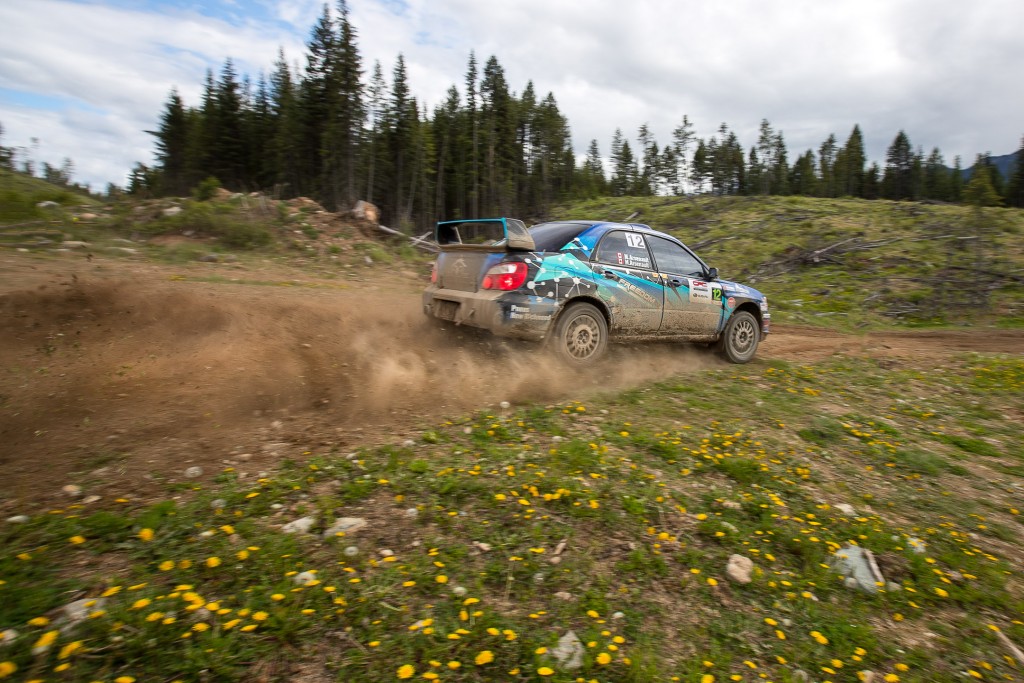 The battle for third took a twist on the final leg. Sam Albert and Krista Skucas had been running well all day, until a minor overheating problem worsened, and the team opted to DNF the end of the first day. The pair had just put a new engine in the car this week, and with a US event next weekend, were unwilling to risk damaging the car today.
"Things were going great until they weren't," said Albert. "We had a hose shift off the defroster unit and rubbed on the steering column and wore a hole through. Started overheating immediately. I tried to bypass it, but we had already lost too much coolant."
This opened the door for Mikael and Manuel Arsenault to move into third at the team's first attempt at Rocky Mountain Rally. Hailing from Quebec and driving the top ranked Subaru in the event, the team have had to adapt to the western style roads, and clearly, they like the stages.
"We came a long way and want to earn good points for the season here," said Mikael, who is battling for postion against Maxime Labrie and Anik Barette. "We took some seconds from each other. It's been a crazy battle, I really like it."
Just 3.8 seconds split the two teams after a full day of stages, setting up what could be the battle to watch tomorrow for the final podium position.
"Some of the stages tomorrow have some intimidating sections," said Maxime, who is piloting his old car, as his newer ex-Subaru Rally Team Canada is undergoing additional work and wasn't ready in time for this event. "We'll try to get back ahead of the Arseneaults, but they're doing a great job, so it's going to be a tough battle."
In two-wheel drive, the usual suspects have been battling for time on stages, and for laughs in interviews. Dave Clark and Jamie Willetts currently lead the class and sit tenth overall in their BMW M3.
"We've been one of the few to have a good run – there's been a lot of issues out there. I thought it was going to be too slippery, but it's really tacked up on the stages," said Clark, who then took on a more comedic tone. "I'm bummed I wasn't able to beat Wim on a fair ground, and of course I was always going to beat Jason. Jason can take a bit of time from me tomorrow, but I'll be spraying the majority of the champagne tomorrow."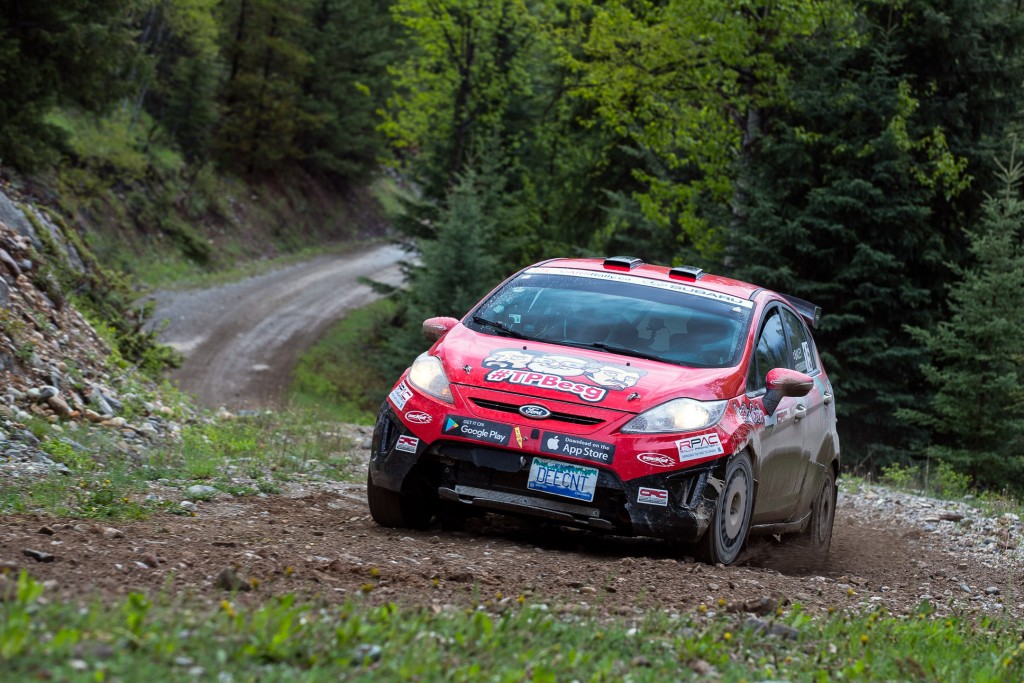 Jason Bailey and Steve Stevenson are second in class, nearly two minutes back. With less than 70kms to go tomorrow, making up the time will be a tall order, but Bailey knows how it could be done.
"Dave Clark is beating us, and frankly, that's embarrassing, and I'm hoping we can do something about it," said Bailey. "We're over a minute back, but one flat, one mistake, one spin… you know Dave, he has all those things in his repertoire."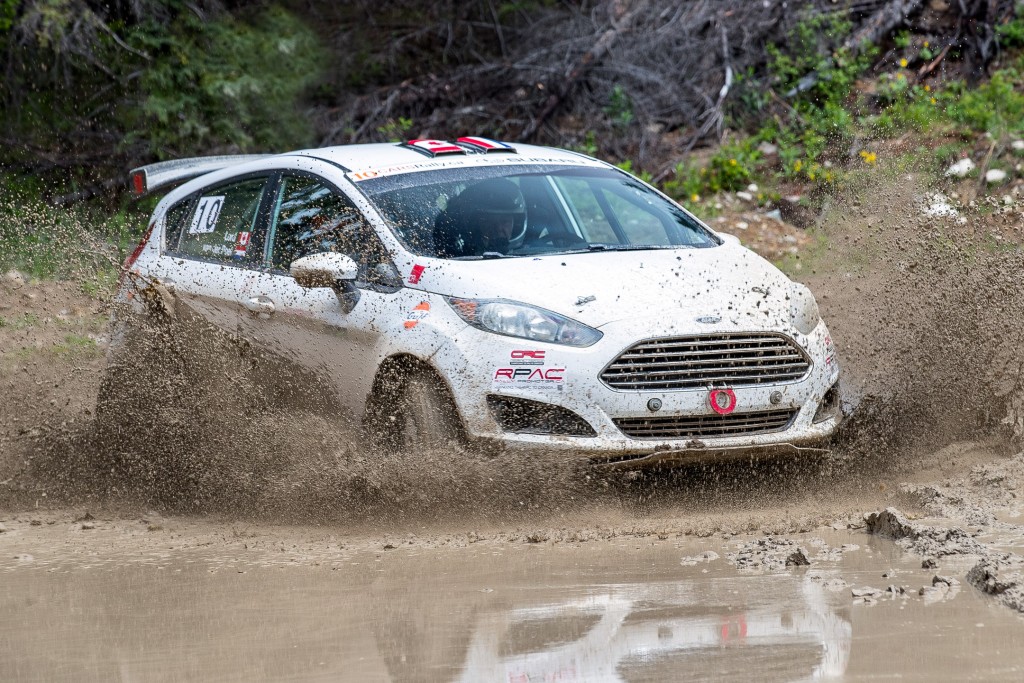 Meanwhile, third place is being held by Wim van der Poel and Bryan Lord. The two claimed the national 2WD title in 2018, but are off the pace this weekend thanks to transmission problems. Early in the day, the team lost third gear. Upon draining the transmission fluid, a lot of metal shards came out of the gearbox. They've been able to continue, but the gearbox has twice stuck in fourth gear. With third being the ideal hillclimb gear, tomorrow's stages will be tough, but van der Poel is not willing to concede anything just yet.
"The transmission isn't improved, but I think we're adapting," said van der Poel. "It's broken, but we'll keep on going. It will be hard on the uphill tomorrow, we'll want third gear, but have to go in second."
Eric Pehota and Jennifer Daly are dominating the Production class by nearly six minutes, and are in ninth position overall. They'll look to hold position and be ready if opportunities to move up the order present themselves.
Rocky Mountain Rally concludes tomorrow with four stages, the Hawke hill climb followed by the descent, run a second time. The forecast shows clearing conditions which should mean drier roads offering more grip. Be sure to follow the action on the CRC social channels.
– with files from Dave Hord