An evening with Taisto Heinonen

Monday, December 31st, 2018
As told to Leanne Junnila, photos provided by Taisto Heinonen, Leanne Junnila.
Anyone who knows Taisto and his characteristic Finnish accent will know that I've cleaned up the grammar and paraphrased a few things for this article, otherwise the stories recounted are his own, described during an evening of food, Finnish liqueur, and traditional sauna in his very Scandinavian home in the woods of British Columbia.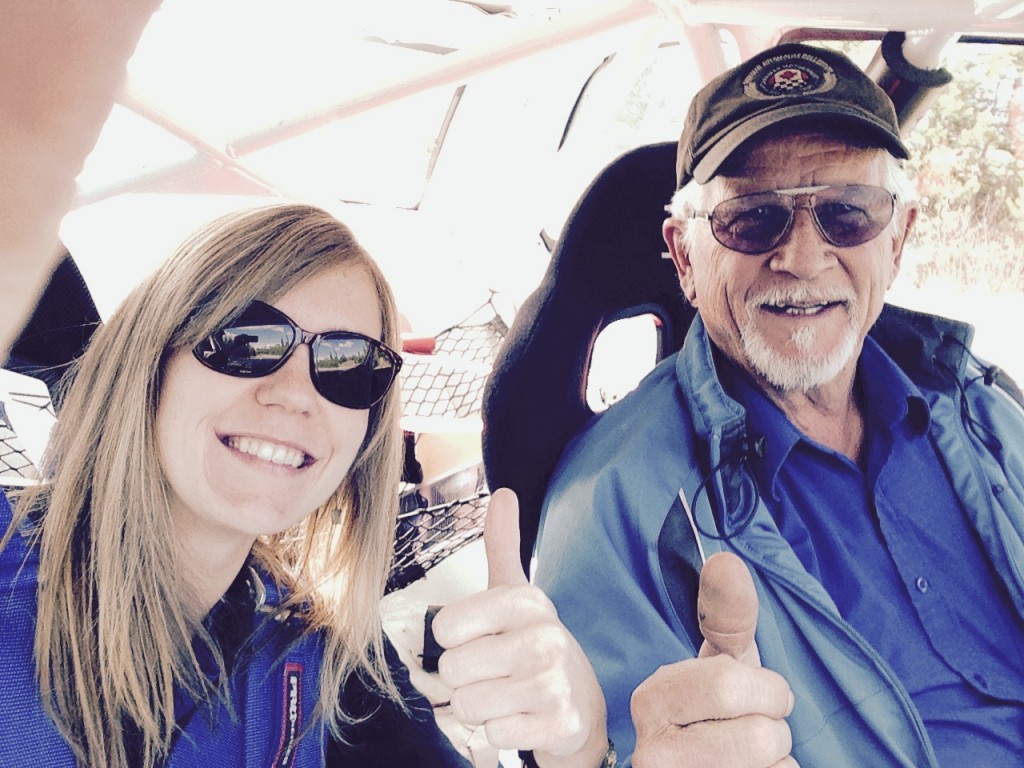 Tell me a bit about your driving background in Finland.
I was no stranger to the North country, I'd been whipping back and forth along those roads since the day I'd earned my driver's license. One day I was driving and something caught my eye. Off in the distance were a group of cars gathered at the edge of a frozen lake. They were organizing themselves for an ice race. I diverted my course and drove over to take a closer look. Some friends I knew were already there, and they tried to convince me to join them in the race: "You have to drive Taisto!", one said, "Not with these street tires", I replied. "Well, if we can get you some studded tires, then will you drive?" another friend asked. My Volvo 122 was the perfect workhorse: rear-wheel drive, manual, and indestructible. I drove it everywhere for work, and today, I was going to race it. I wasn't the only Volvo 122 owner who showed up that day, so my friends negotiated with another driver, swapped a borrowed set of studded tires on to my car and we headed for the start line. I don't remember how many cars were lined up that day, or who my competition was. All I was focused on was the start flag. The flag waved, and we were off. I drove as fast as I could. Finally, about halfway around the lap I glanced side to side and I didn't see any cars around me. I thought I'd jumped the start and my competitors had already turned around to go back to the start again, but I continued to the end of the lap anyway. I slowed down approaching the finish feeling embarrassed for jumping the line, but then I could hear the audience cheering "go! go!" so I put my foot back on the gas and finished the lap. I'd won. By a lot. That day, I knew I could drive.
You mentioned you drove your Volvo for work, what was your job?
I was a product representative for Philips, the lighting company. I loved driving so this was the perfect job for me. Winter driving requires a kind of delicate precision that makes all other conditions seem easy and the North country in Finland has no shortage of winter, so it was the perfect training ground. My territory was Northern Finland: Oulu, Kuusamo, Rovaniemi, Kemi, and behind the wheel of my Volvo I had all the confidence in the world.
Then, 4 months before my 20th birthday I did what most other young Finnish men did: I joined the military. At the booking office I told them I wanted to be a driver. After an assessment and basic training I got my wish, I became a driver…of everything. Ambulances, Unimogs, then eventually I was assigned a '56 Chevy and became a driver for high ranking officials from the Finnish and Swedish militaries. I picked them up from the airport, and I would drive them to 'war practice' where we would swap the Chevy for a 4-wheel drive and I would drive them through the 4-wheel drive practice terrain.
What happened after the military?
After a year in the military, driving was still all I could think about. I joined more ice racing competitions, and eventually built a proper rally car. I was 24 years old when I entered my first 'stage' rally in a 544 Volvo. I always built my own rally cars, except one car which I bought from Harman Hajiyt, a Finnish company that built 7 idental cars: 850cc Sunbeam Imp's. They ran the cars as a spec series and a young Markku Alen was driving in that cup as well. Eventually, I moved to Canada to be closer to some family who had already moved here, and just as I was getting ready to leave Finland the Harman Hajiyt team offered me a sponsored drive in the new 1000cc spec Sunbeam which I had to turn down. Of course, after arriving in Canada I took up rallying again and began my Canadian rally career first by building a Ford Anglia, then a Renault R8 Gordini.
You always built your own rally cars, where did you learn your mechanical expertise?
I was always interested in cars so when I was 16 I went to school in Finland to become a mechanic. The program was government sponsored and designed so that when you graduated you got your ticket as a licensed mechanic and also a commercial drivers license.
You're most known for your time as a Toyota driver. When did you work for Toyota?
I was a driver for their factory rally team for 6 years, from 1977-1982. Then in 1982 Toyota got a new President and they cancelled the rally program for 1983.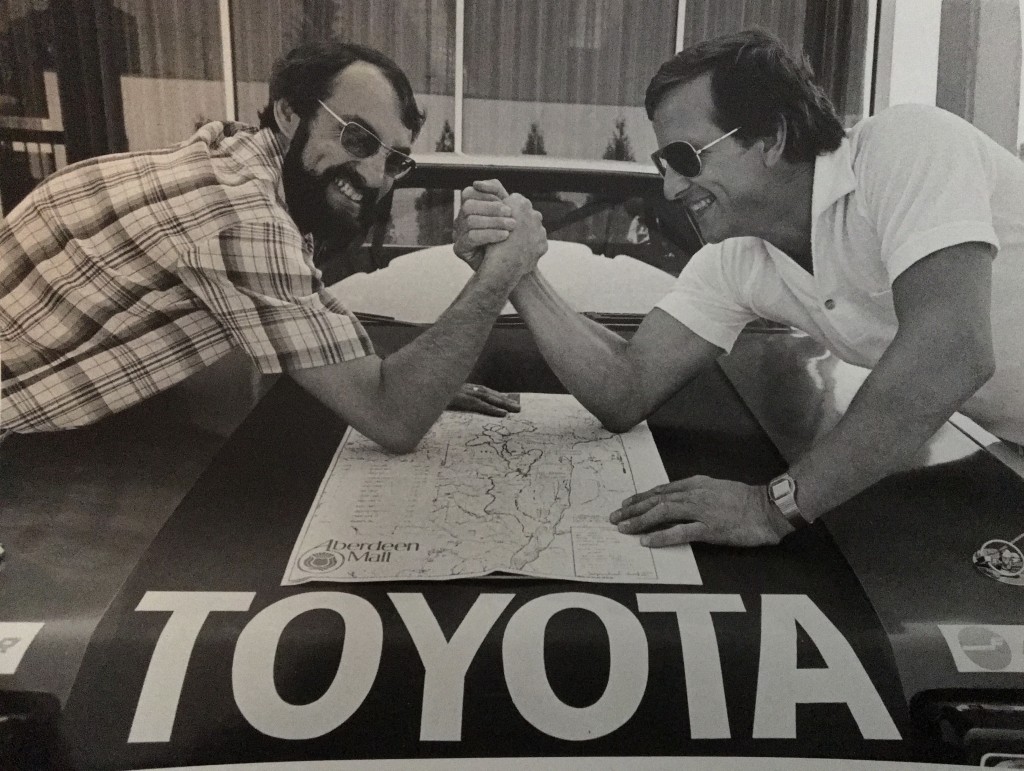 Tell me what it was like to be a Toyota Factory rally driver.
It was like a dream come true. I was running a shop at the time and I was able to hire mechanics to help me build the best cars, then I got to drive them and achieve good results. I think we finished 80% of the rallies we started and won 60%. The President of Toyota Canada at the time was Mr. Yuki Togo, and he was the best sponsor a driver could ask for. He took me golfing, fishing, and he also brought me to Japan to meet the executives at the Toyota Japan factory. We had a great relationship.
For those 6 years we got a new rally car every year except 1981. Back then the Toyota WRC team was based in Brussels, Belgium so at the start of every season I travelled to Brussels to see the new parts they'd developed for the car that year and place an order for what I would need that season.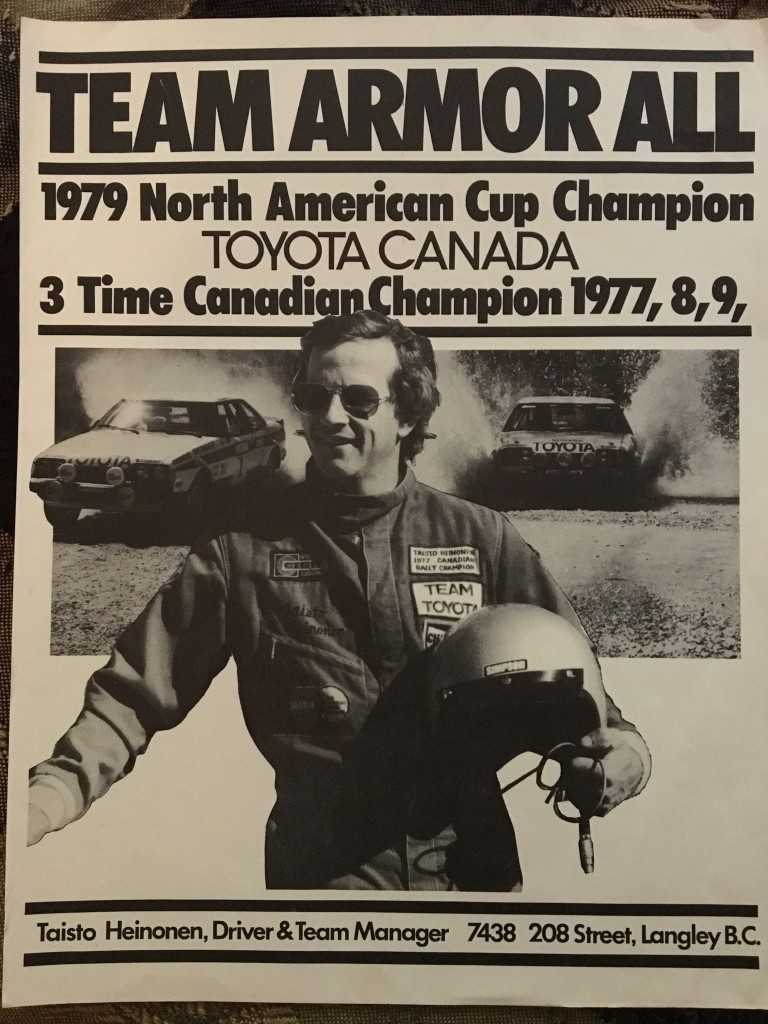 Do you think it was an advantage to build your own rally cars, even as a factory driver when you could have paid someone else to build them for you?
Well yes, it's an advantage because you know exactly how the components are assembled and you understand where the weak and strong points are and what the car can take. If you are a skilled driver but don't know the mechanics of the car you might punish the car more than it can take. Car building at the top level is not very common today. There are a few modern WRC drivers who are mechanical experts like Jari-Matti Latvala and Mikko Hirvonen a few years ago, but the rallies are shorter today. Rallies used to be much longer and endurance was a real challenge so it was even more of an advantage to be a car builder back then. I can think of Timo Makinen, Ove Andersson, Bjorn Anderson, John Buffum, Bo Skowronnek, Tim Bendle, they were all car builders.
Tell me about the Big White Winter Rally.
I have an AE86 Toyota Corolla rally car that I built over the past few years in a way that is similar to the factory Toyota cars we used to race. Eric Grochowski drove it at the Big White Rally this month with one of my former co-drivers in the right seat, Martin Headland. Eric is a multiple National 2-wheel drive champion in Canada (he's also Finnish on his mother's side) so it was fun to see a modern Finnish driver and a vintage car (and car builder) have success together, finishing second in two wheel drive.
Will you drive a rally car again?
No, I'm too old for that now. In two years I'll be 80. I mean, I don't know, who is the oldest person ever to drive a rally car? Maybe I could do one more when I turn 80 and break a record. But only if you (Leanne) are my co-driver.